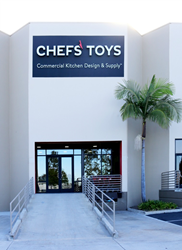 We want to thank all of our San Diego county foodservice customers for their support over the years. Now with our new store conveniently located in Miramar, we hope to provide a higher level of service
SAN DIEGO, Calif (PRWEB) September 29, 2016
Chefs' Toys, the leading restaurant equipment and supply company in southern California, announced their 7th store opening today located in central San Diego. The newest warehouse store is located at 8925 Carroll Way, San Diego, CA serving, chefs, restaurant operators, food manufacturers, caterers, brewers, other foodservice professionals and home cooking enthusiasts. The San Diego location is located near Miramar Road (near the pyramid) and Carroll Way, close to the 15 and 805 freeways. The store hours are 7:30 a.m. - 5:00 p.m. Monday through Friday, and on Saturday 9:00 a.m. - 3:00 p.m.
"Chefs' Toys is extremely excited about opening our 7th location, our 1st store in San Diego," says Steve Dickler, President of Chefs' Toys. "We want to thank all of our San Diego county foodservice customers for their support over the years. Now with our new store conveniently located in Miramar, we hope to provide a higher level of service."
Chefs' Toys restaurant supply store serves customers in cities in the San Diego area such as Oceanside, Carlsbad, Escondido, Encinitas, Solana Beach, Cardiff-by-the-Sea, Gaslamp District, Torrey Pines, Point Loma, San Marcos, La Mesa, Del Mar and Ocean Beach, for example.
"We are thrilled that Chefs' Toys added a new location right in our backyard, says Tim Kolanko, Executive Chef at Blue Ridge Hospitality group in San Diego. "I've been purchasing equipment & supplies from Chefs' Toys since 2004. Not only do they have a great catalog of items, the service has always been excellent! It's great to know if we need some items same day we can run over to the new store in Miramar."
For more information, customers can visit Chefs' Toys' San Diego store at 8925 Carroll Way in San Diego, CA. The store telephone number is (619) 239-2433. Public is welcome. No membership required. The company's website is http://www.chefstoys.com. For marketing inquiries please email us at marketing(at)chefstoys(dot)com.
About Chefs' Toys
Chefs' Toys, with its start in 1988, is the restaurant supply leader offering foodservice equipment and commercial kitchen supplies and design services in the southern California marketplace. With over 150 staff and 20 commercial trucks, Chefs' Toys offers 7 consistently designed warehouse superstores in southern California, as well a large distribution center. Offering over 9,000 products and supplies, with excellent relationships with the top brands in the restaurant space, and knowledgeable employees including trained chefs, Chefs' Toys is well positioned to continue to provide commercial equipment, professional products, services and supplies to the foodservice industry. Chefs' Toys' San Diego store is located in Miramar. Orange County locations include Anaheim and Fountain Valley. Its Los Angeles area locations include Torrance, Van Nuys, and West Los Angeles. The location in Corona serves the Inland Empire. With its acquisition of Michael Blackman and Associates, Chefs' Toys offers full professional services including design, planning, consulting, and project management services for restaurants, bars, and commercial kitchens. For more information go to ChefsToys.com.