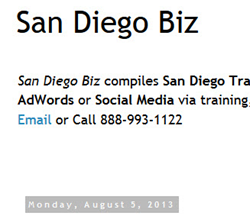 San Diego is an important city but lacks a one-stop-shop for all training and business entrepreneurship needs.
San Diego, CA (PRWEB) August 06, 2013
The JM Internet Group, an online SEO training provider, is proud to announce their latest business training blog called 'San Diego Biz.' 'San Diego Biz' is part of the company's local outreach program, creating lively localized blog content on SEO, Social Media Marketing, and AdWords with a local twist.
"While our training is taught online, I do quite a few localized workshops in cities such as San Diego, California," explained Jason McDonald, Director of the JM Internet Group. "This new blog focuses on lively training and class information for San Diego businesses, highlighting what's new and exciting in this Southern California city."
To read the new 'San Diego Biz' blog, go to http://www.sandiego-training.org/, as the blog shares local San Diego SEO training as well as general business training and learning opportunities with a local flair.
More on 'San Diego Biz'
Outside of large cities such as Los Angeles, New York, or San Francisco, small businesses can find it quite difficult to learn the new rules of Internet marketing such as SEO (Search Engine Optimization), Social Media Marketing (SMM), or Google AdWords. The 'San Diego Biz' blog caters to this need, and compiles information on non-profits, government sites, libraries and other agencies that can help small businesses get started or make the transition to a more effective Internet marketing strategy.
In addition, the reality is that many of the local government or non-profit organizations do not themselves understand SEO and so they are not very visible to the small business owner in San Diego! The 'San Diego Biz' blog addresses this inadequacy as well: helping small business use the Internet to find local business resources. It's ironic, but many of the best and most useful government or non-profit resources are all but invisible on Google searches.
About JM Internet Group
The JM Internet Group provides SEO, Social Media Marketing, and Google AdWords training and courses for busy marketers and businesspeople. Online search engine optimization training helps explain keywords, page tags, link building strategies and other techniques needed to climb to the top of search engine rankings for Google, Yahoo, and Bing. The teaching methodology is hands on, with live examples and discussions, taught from the convenience of each student's computer.
Contact:
JM Internet Group, Media Relations
Email. jm.internetgroup(at)gmail(dot)com
Tel. +1-510-713-2150