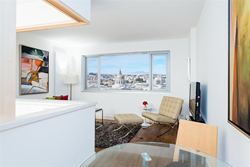 Our luxury high rise apartment complex in the SOMA district of SF is high in demand and requires the best of the best in managing Residential Operations, and Ms. DiRienzo is San Francisco's best.
San Francisco, CA (PRWEB) February 27, 2014
1190 Mission at Trinity Place Apartments http://www.1190missionapts.com/ has announced the welcoming of their new Director of Residential Residential Operations for their luxury top scale apartment building in the SOMA district of San Francisco: Tina DiRienzo. Ms. DiRienzo joins the Trinity Management team with extensive experience in property management including renovation projects, marketing, and resident relations. She was most recently the recipient of the General Manager of the Year award from the San Francisco Apartment Association. She is coming off an extensive construction project and successful lease-up at the Pinnacle on Nob Hill. Her knowledge and expertise will work seamlessly with the upscale apartment building located at 1190 Mission Street.
"Our luxury high rise apartment complex in the SOMA district of SF is high in demand and requires the best of the best in managing Residential Operations, and Ms. DiRienzo is San Francisco's best." explained William Harlow, marketing manager at Trinity Management Services. "Our sheik, popular apartment rentals in this favorable location are almost always filled to capacity. Residential Operations management is of the utmost importance and Ms. DiRienzo's experience and expertise is exactly what we need to fulfill our commitment to resident satisfaction."
To learn more about 1190 Mission at Trinity Place, please visit http://www.1190missionapts.com/ where potential apartment seekers can browse inventory of available studio, and one-bedroom apartments for rent in the South of Market (SOMA) neighborhood.
SOMA (South of Market): One of San Francisco's Hottest Neighborhoods
SOMA has become one of the most exciting areas for apartment rentals and apartment living in San Francisco. Known for its tech crowd, the SOMA neighborhood has attracted residents working in the "new" Silicon Valley of the Bay Area, San Francisco, home to businesses such as Yelp, LinkedIn, and Twitter as well as commuters to the "old" Silicon Valley farther south for businesses like Google and other stalwarts of technology in the San Francisco Bay. SOMA brings together an urban flair for living with cafes, restaurants, and other urban attractions plus convenient transportation options such as close access to the 101 freeway, Interstate 80 corridor, and BART (Bay Area Rapid Transit). Apartment dwellers can enjoy urban living and yet easily commute (or escape) to the larger attractions of the San Francisco Bay Area.
About 1190 Mission at Trinity Place
One's dream apartment awaits apartment seekers. Rising with stunning views of downtown San Francisco South of Market, the all-new Trinity Place is as architecturally stunning as it is comfort-filled and convenient. These luxury apartments located in the SOMA District of San Francisco are more than just a building and an address. They are a community, with a fitness center, a resident's lounge with Wi-Fi, children's play area, front desk associates and 24-hour Courtesy Patrol.
These luxury apartments are a central starting point for getting anywhere in San Francisco with ease. The furnished studio and 1 bedroom apartments are near the Orpheum Theater, Moscone Center, the new Twitter Headquarters and AT&T Park home of the San Francisco Giants. Convenient to Muni or BART, head to work or a night on the town in San Francisco. At Trinity Place, apartment seekers can rent or lease one of the gorgeous studio or one bedroom apartments which include spacious tall ceilings and large windows for spectacular city views. The resident will enjoy preparing gourmet meals in apartment seekers modern kitchen with top-of-the-line appliances and black granite counters. Wood-style and ceramic tile flooring add to the beauty of apartment seekers apartment, where apartment seekers can be proud to entertain guests. Furnished apartments are also available to rent or lease. San Francisco corporate suites also available.
1190 Mission at Trinity Place
Web. http://www.1190missionapts.com/
Tel. 415-861-3333