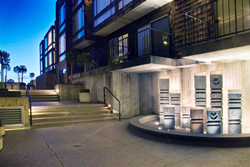 San Francisco, CA (PRWEB) March 06, 2014
350 Union Street Apartments,(http://www.350unionapts.com) has announced the welcoming of their new Director of Residential Operations for their luxury top scale apartment building in the Telegraph Hill district of San Francisco: Tina DiRienzo. Ms. DiRienzo joins the Trinity Management team with extensive experience in property management including renovation projects, marketing, and resident relations. She was most recently the recipient of the General Manager of the Year award from the San Francisco Apartment Association. She is coming off an extensive construction project and successful lease-up at the Pinnacle on Nob Hill. Her knowledge and expertise will work seamlessly with the upscale apartment building located at 350 Union Street on Telegraph Hill.
"Our luxury apartment complex on Telegraph Hill is very popular and sought out by people wanting to live in San Francisco. It requires the best of the best in Residential Operations Management, and Ms. DiRienzo is San Francisco's best," explained William Harlow, marketing manager at Trinity Management Services. "Our apartment rentals in this favorable location almost always have a waiting list for rentals to become available. Residential Operations Management is of the utmost importance and Ms. DiRienzo's experience and expertise is exactly what we need to fulfill our commitment to tenant satisfaction."
To learn more, please visit the apartment complex website at http://www.350unionapts.com, where the interested party can browse Telegraph Hill apartments for rent in a variety of floorplans, including studio and 1 bedroom apartments for rent.
Telegraph Hill Apartments for Rent and Localization
Telegraph Hill is today primarily a residential area, much quieter than adjoining North Beach with its bustling cafés and nightlife. Aside from Coit Tower, it is well known for its gardens flowing down Filbert Street down to Levi Plaza. The Telegraph Hill of 2013 is known for supporting a flock of feral parrots, primarily Red-masked Parakeets, descended from escaped or released pets. The flock was popularized by a book and subsequent documentary, both titled The Wild Parrots of Telegraph Hill.
About the Apartments at 350 Union Street
Right in front of the famed Coit Tower in San Francisco lies beautiful, luxurious studio and 1 bedroom apartments for rent. The Apartments on Union Street are located on the edge of Telegraph Hill, near North Beach and Chinatown - two of San Francisco's most famous districts.
Live in complete luxury in these studio and 1 bedroom apartment rentals, with all the modern amenities, including a community sundeck.
Corporate suite rentals are also available, and the friendly staff is always available to help with rental and leasing needs. Renting an apartment in the heart of San Francisco makes public transportation an important necessity and the Apartments on Union Street are near public transportation - always close by and readily available.
Apartments at 350 Union Street Contact Details
Web. http://www.350unionapts.com
Tel. (415) 421-4333