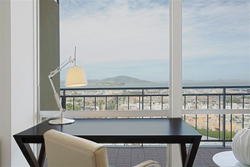 This complex was one of the first of more than a dozen apartment properties that we manage, to fill to almost 100% capacity this summer.
San Francisco, CA (PRWEB) June 27, 2014
Trinity Tower Apartments, (http://www.888ofarrellapts.com,) a very popular apartment complex located in the Van Ness Corridor of San Francisco, announces the availability of select studio, 1 and 2 bedroom apartments available for short-term lease. The complex is central to several tourist spots, appealing to the needs of travelers and tourists during the summer season.
"Apartments for short-term lease or rent in San Francisco are not in abundance, however Trinity Management manages several properties located all over the upscale parts of the city, including Trinity Towers in Van Ness, that offer short-term rentals for travelers and tourists, especially over summer vacation when most kids are out of school," explained William Harlow, marketing manager at Trinity Management Services. "We want to make sure the word gets out that we are one of the few that offers short-term leases and corporate rentals on many units."
To learn more about Trinity Tower Apartments, located at 888 O'Farrell, please visit http://www.888ofarrellapts.com/ where potential apartment seekers can browse an inventory of available studio, 1 and 2 bedroom apartments for rent in San Francisco's Van Ness Corridor neighborhood.
About the Trinity Tower Apartments (located at 888 O'Farrell)
Enjoy the breathtaking views from your apartment rental at the Trinity Tower Apartments on O'Farrell Street in San Francisco. Luxury awaits you in these studio, 1 and 2 bedroom apartments for rent. These apartments are centrally located in the Van Ness Corridor, near downtown San Francisco and the Financial District. The Performing Arts Center and newly renovated City Hall are also nearby. When you want to live in the center of San Francisco, this is the apartment rental choice for you. Our luxury apartments include a heated indoor swimming pool and state-of-the-art fitness center, with views of the San Francisco Bay, the Golden Gate Bridge, and the Palace of Fine Arts. Every modern convenience can be found in each and every one of our beautiful apartment rentals. Also nearby is the lovely Japantown with delicious Japanese cuisine to tempt your taste buds. These dream apartment rentals are near shops, restaurants, and popular clubs on Union Street; as well as shops and boutiques on Chestnut Street in the Marina District. Residents will live in style in one of the most highly sought after locations in San Francisco with easy access to public transportation for access to downtown SF, and convenient by car to Marin.
Trinity Tower Apartments Contact Details
Web. http://www.888ofarrellapts.com/
Tel. (415) 885-3333