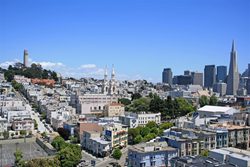 We are very pleased at the strong demand for apartment rentals in this community. The waiting list for units becoming available continues to grow; however we are always happy to continue to place interested renters on the waiting list.
San Francisco, CA (PRWEB) June 29, 2014
Crystal Towers Apartments, located at 2140 Taylor Street, (http://www.2140taylorapts.com,) a North Beach District of San Francisco, is excited to announce the availability of select short-term rental studio, 1 and 2 bedroom apartments. The well traveled North Beach apartment complex offers luxury apartments for short-term lease rent, appealing to travelers and tourists in the city over the summer vacation. The elite neighborhood in North Beach, along with the exciting night life and quaint restaurants, make the apartment complex a home run for travelers and tourists.
"Apartments for short-term rental in North Beach are far and few between, however we have a select number of short-term lease apartment-homes in the North Beach area that are always in demandk, especially in the summer, by people wanting to live in San Francisco or stay on an extended vacation in one of our many short term rentals," explained William Harlow, marketing manager at Trinity Management Services. "We get a lot of repeat temporary renters as well as new ones each year and we are proud to be able to offer them a great place to stay while visiting this awesome city."
To learn more about Crystal Tower Apartments, please visit http://www.2140taylorapts.com where potential apartment seekers can browse inventory of available one and two bedroom apartments for rent in the North Beach District.
About Crystal Tower Apartments
The Crystal Tower Apartments are located between Lombard and Greenwich Street and offer 1 and 2 bedroom luxury apartment rentals. With spectacular views of the Golden Gate Bridge, and the San Francisco Bay from Russian Hill, renters are a short walk to North Beach's famous Italian dining and cafes, as well as Chinatown. Near the Financial District - Pier 39, Fisherman's Wharf, and Ghirardelli Square are just moments from these beautiful apartments.
Enjoy all the modern luxuries and amenities in these 1 and 2 bedroom apartment rentals, including a heated swimming pool. Furnished apartments are available for rent. Short term rentals are also available to accommodate corporate suite rental and leasing needs.
Crystal Tower Apartments
Web. http://www.2140taylorapts.com
Tel. (415) 885-0333