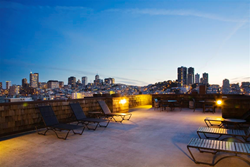 Summer is a fantastic time to visit the city. Tourists from all over the globe look for short-term rentals for the summer.
San Francisco, CA (PRWEB) June 30, 2014
350 Union Street Apartments, (http://www.350unionapts.com,) a top apartment complex in the Telegraph Hill District of San Francisco, is proud to announce availability of short-term leasing on rentals for the summer. Telegraph Hill is one of the most well visited spots in San Francisco, and tourists love to visit the city for extended periods of time over the summer. The upscale neighborhood and the apartment units filled with all the modern luxuries from home make the apartment complex a home run for travelers and tourists.
"Apartments for rent on Telegraph Hill are highly sought after, especially in the summer, by people wanting to live in San Francisco or stay on an extended vacation in one of our many short term rentals," explained William Harlow, marketing manager at Trinity Management Services. "We are very pleased at the strong demand for apartment rentals in this community. The waiting list for units becoming available continues to grow; however we are always happy to continue to place interested renters on the waiting list.
To learn more, please visit the apartment complex website at http://www.350unionapts.com where the interested party can browse Telegraph Hill apartments for rent in a variety of floorplans, including studio and 1-bedroom apartments for rent.
About The Apartments at 350 Union Street
Right in front of the famed Coit Tower in San Francisco lies beautiful, luxurious studio and 1 bedroom apartments for rent. The Apartments on Union Street are located on the edge of Telegraph Hill, near North Beach and Chinatown - two of San Francisco's most famous districts.
Residents live in complete luxury in these studio and 1 bedroom apartment rentals, with all the modern amenities, including a community sundeck.
Corporate suite rentals are also available, and the friendly staff is always available to help with rental and leasing needs. Renting an apartment in the heart of San Francisco makes public transportation an important necessity and the Apartments on Union Street are near public transportation - always close by and readily available.
Contact Details
The Apartments at 350 Union Street
Web. http://www.350unionapts.com
Tel. (415) 421-4333