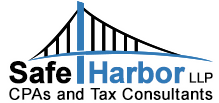 San Francisco and indeed the entire San Francisco Bay Area are major centers of entrepreneurship.
San Francisco, CA (PRWEB) August 28, 2014
Safe Harbor LLP, a top San Francisco CPA firm for business, is proud to announce its latest informative blog post, identifying 'thinking points' for clients to ponder when selecting a CPA firm for corporate finance, and accounting needs. With San Francisco an ever-increasing area of startup activity, more and more companies are struggling with the issue of which accounting services to do 'in house' and which to 'outsource.'
"San Francisco and indeed the entire San Francisco Bay Area are major centers of entrepreneurship," explained Chun Wong, CPA, managing partner at Safe Harbor LLP. "Many San Francisco Bay Area startups and existing corporations struggle with the cost and expertise level of their in-house accounting staff. Accordingly, we outlined some 'thinking points' to ponder when selecting accounting services."
To read the actual blog post please visit http://www.safeharborcpa.com/in-house-cpa/. To read all posts in the series on 'San Francisco Small Business,' one should visit http://www.safeharborcpa.com/tag/small-business/.
To Outsource or Not To Outsource Corporate Finance and Accounting
Having a department in-house focused on corporate finance and accounting has its advantages and disadvantages. On the advantage side, an in-house department is available all the time (at least during business hours). In addition, it may be more focused on internal business issues. Outsourcing a CFO (Chief Financial Officer), however, compensates for the disadvantages of an in-house system. Among the disadvantages can be a lack of accounting expertise and in-depth knowledge of current tax, accounting, and finance issues. Any smart CEO will think through these issues before deciding to go 'in' or go 'out' for sourcing his or her accounting needs.
About Safe Harbor LLP – a San Francisco CPA Firm
Safe Harbor LLP is a CPA firm that specializes in accounting and tax services for individuals and businesses throughout the San Francisco Bay Area and greater California. Safe Harbor CPAs helps both individuals and businesses with tax preparation, IRS audit defense, and audited financial statements. The firm prides itself on friendly yet professional service and utilizes state-of-the-art Internet technology to provide quality customer service.
Safe Harbor CPA
http://www.safeharborcpa.com
Tel. 415.742.4249