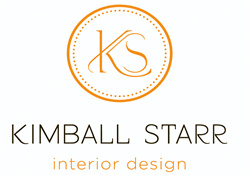 Kimball Starr combines qualities from both urban and rural retreats for homeowners looking to have the best of both worlds.
San Francisco, CA (PRWEB) August 08, 2014
Kimball Starr Interior Design, a San Francisco contemporary interior design firm, is celebrated in the newly published Country-Style Residences, a compendium of the finest contemporary work in the country style spanning categories of British, French, American, and Modern design. The featured project, Hillside Retreat, is a colorful and comfortable San Francisco hillside home with a view of downtown. Phoenix Books, the publisher of the collection, selected the project for its artful mix of modern and country interior design styles.
"I am honored to be part of this collection," said Kimball Starr. "The editors have carefully curated beautiful examples of residential interiors, and I am delighted to have my work included."
Starr's featured project is part of the Modern Country Style section, showcased alongside industry luminaries such as Drake Design Associates. This style is exemplified by the use of simple and exquisite hardware, symbolic colors, idyllic patterns, simple lines, modern furniture, numerous plants, and traditional artwork.
Breathtaking views of downtown San Francisco are enjoyed from the eighteen-foot high windows and open floor plan on the main level of the four-story home. The San Francisco modern interior design firm uses color to set the mood throughout the space, ranging from bright pops of teal, fuchsia, and white in the entertaining areas to the tangerine-soaked guest room and ending in the sumptuous master bedroom, an intimate retreat bedecked in taupe and daffodil yellow. Starr's design "brings in playful color, modernity, and personal character throughout the home to give a sense of lightness and fun."
According to the book, the home serves as either "a rural retreat from urban life or as party central for entertaining with a view." Additionally, the book highly lauds the expert interior design by stating, "Kimball Starr combines qualities from both urban and rural retreats for homeowners looking to have the best of both worlds."
Country-Style Residences is published by Jiangsu Science and Technology in English and Chinese. It is available in the United States through Amazon. Visit http://www.amazon.com/Country-Style-Residences-Hardcover-Chinese-Edition/dp/7553709662 to order a copy.
About Kimball Starr Interior Design
Kimball Starr Interior Design, Allied ASID, is an affordable luxury San Francisco interior design firm that delivers value and quality based interior design for residential and commercial interiors. Working with a diverse team of architects, contractors, and talented artisans, our focus is on interior detailing, thoughtful finish selections, and custom furniture design to transform your space into a beautiful and intelligently planned interior.
For more information about interior design in San Francisco or any of Kimball Starr Interior Design's services, call (415) 637-8203 or visit http://kimballstarr.com.