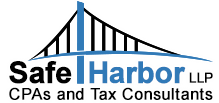 With the Bay Area home to so many different groups, international tax is a growing area of specialty.
San Francisco, CA (PRWEB) October 31, 2014
Safe Harbor LLP, a top San Francisco accounting firm for international tax issues, is proud to announce upgrades to its website information on international tax issues. Serving California clients with complex international tax and accounting needs, the CPA firm has experienced strong demand for its services due to growing international exposure in the San Francisco Bay Area.
"International tax services are increasingly important to our San Francisco Bay Area clients," explained Chun Wong, CPA, managing partner at Safe Harbor LLP. "Accordingly, we have steadily improved our International tax service information pages on our website."
To learn more about the firms' International tax service, please visit http://www.safeharborcpa.com/international-tax/. There, one can find links to the company's blog with information on international tax issues. Specific blog posts on international tax services for San Francisco and beyond can be found at http://www.safeharborcpa.com/tag/international-tax/.
International Tax Compliance: A Growing Service for CPA Firms
As the world grows flatter, meaning technology makes countries closer than ever in terms of travel, technology and communication, more and more individuals and businesses have international tax compliance issues. Many individuals own stock in foreign companies, and many people who visit the Bay Area for work purposes often maintain ties to their home countries. Among the issues that are common pain points are OVDP (Offshore Voluntary Disclosure Program) compliance, FBAR (Report of Foreign Bank and Financial Accounts), and DISC (Domestic International Sales Corporation). The layperson can be baffled by the acronyms alone; Safe Harbor LLP's blog is a first level of information, which - when coupled with in-depth advice from the company's accountants - can make the mysterious labyrinth of foreign tax compliance manageable, if not simple.
About Safe Harbor LLP – a Professional CPA Firm in San Francisco
Safe Harbor LLP is a CPA firm that specializes in accounting and tax services for individuals and businesses throughout the San Francisco Bay Area and greater California. Safe Harbor CPAs help both individuals and businesses with tax preparation, IRS audit defense, and audited financial statements. The firm prides itself on friendly yet professional service and utilizes state-of-the-art Internet technology to provide quality customer service.
Safe Harbor CPA
http://www.safeharborcpa.com
Tel. 415.742.4249