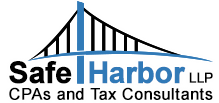 Being audited by the IRS or FTB need not be terrifying.
San Francisco, CA (PRWEB) November 19, 2013
Safe Harbor LLP, a top San Francisco accounting firm specializing in IRS and FTB Audit Defense, has published a blog bulletin with tips for how to respond to IRS and/or FTB audit requests at http://www.safeharborcpa.com/responding-to-an-irs-or-ftb-audit-request-tips-for-san-franciscans/. The firm has increased its focus on being a top San Francisco CPA firm in the audit defense area, helping both individuals and businesses respond to IRS and/or FTB audit requests.
"Being audited by the IRS or FTB need not be terrifying," explained Chun Wong, Managing Partner at Safe Harbor LLP. "We receive many inquiries from San Francisco individuals and businesses who have received information requests from the IRS and/or FTB."
Responding to an IRS or FTB Audt Requests
While receiving an audit request may seem terrifying, Safe Harbor LLP helps its clients respond in the most efficient and legally acceptable way. For most clients, the best practice is to keep good records and file tax returns in a timely fashion. For its on-going client base, Safe Harbor LLP helps clients to make sure that both record-keeping and tax filing are done properly and on time. For those clients who do receive an IRS and/or FTB audit request, the firm helps them respond in a timely and legally appropriate fashion. If needed, extensions can be requested and the firm will meet with the IRS and/or FTB representative along with the client to make sure that the information provided is correct. That said, the goal of Safe Harbor LLP is to minimize taxes paid to the full extent of the law. So the first step for an individual or business receiving an audit request letter is to reach out for a consultation with one of the firm's expert accountants.
IRS Circular 230 Notice
The Internal Revenue Service requires Safe Harbor LLP to inform the reader that any tax advice contained in this correspondence cannot be used for the purpose of avoiding penalties under the Internal Revenue Code or for promoting, marketing or recommending to another party any transaction or matter addressed.
About Safe Harbor LLP – a Professional CPA Firm in San Francisco
Safe Harbor LLP is a CPA firm that specializes in accounting and tax services for individuals and businesses throughout the San Francisco Bay Area and greater California. Safe Harbor CPAs helps both individuals and businesses with tax preparation, IRS audit defense, and audited financial statements. The firm prides itself on friendly yet professional service and utilizes state-of-the-art Internet technology to provide quality customer service.
Safe Harbor CPA
http://www.safeharborcpa.com
Tel. 415.742.4249