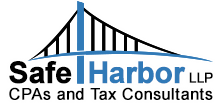 San Francisco is a hotbed of startup activity.
San Francisco, CA (PRWEB) November 20, 2013
Safe Harbor LLP , a top San Francisco accounting firm specializing in startups at http://www.safeharborcpa.com/ has published a blog bulletin with tips for San Francisco startup businesses at http://www.safeharborcpa.com/san-francisco-startups-finding-a-cpa-firm-specializing-in-startups/. The firm has increased its focus on being a top San Francisco startup CPA firm, helping startups organize their accounting, financial, and tax issues in the best possible way to minimize tax liabilities.
"San Francisco is a hotbed of startup activity," explained Chun Wong, Managing Partner at Safe Harbor LLP. "We receive many inquiries from Startups looking for CPA firms to help them organize their businesses, and so we thought it time for a quick post of top tips for startups."
The San Francisco Startup Scene
With the recent Twitter IPO, San Francisco has all but eclipsed Silicon Valley as the focus of Bay Area startup activity. Twitter will soon go public, undoubtedly generating stock options and income for its many employees. If the past is any guide to the present, these newly rich employees will go on to fund a new wave of startup businesses, just as employees of Google, LinkedIn, Yelp, and eBay have funded many of the Bay Area's most innovative startups.
In a more traditional sense, San Francisco is also home to many non-tech entrepreneurial businesses. These more traditional businesses are also startups in an organizational sense. Safe Harbor LLP is reaching out to both tech startups and more traditional startup businesses to help them with business organization and tax issues.
Creating an organized accounting and financial system puts any startup on a firm financial footing.
IRS Circular 230 Notice
The Internal Revenue Service requires Safe Harbor LLP to inform the reader that any tax advice contained in this correspondence cannot be used for the purpose of avoiding penalties under the Internal Revenue Code or for promoting, marketing or recommending to another party any transaction or matter addressed.
About Safe Harbor LLP – a Professional CPA Firm in San Francisco
Safe Harbor LLP is a CPA firm that specializes in accounting and tax services for individuals and businesses throughout the San Francisco Bay Area and greater California. Safe Harbor CPAs helps both individuals and businesses with tax preparation, IRS audit defense, and audited financial statements. The firm prides itself on friendly yet professional service and utilizes state-of-the-art Internet technology to provide quality customer service.
Safe Harbor CPA
http://www.safeharborcpa.com
Tel. 415.742.4249