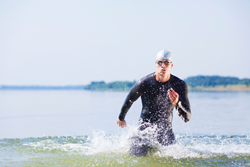 San Francisco Hotels like Hotel Union Square will welcome athletes from around the world who come to participate in the Escape from Alcatraz Triathlon.
San Francisco, CA (PRWEB) May 12, 2016
San Francisco Hotels like Hotel Union Square will welcome athletes from around the world who come to participate in the Escape from Alcatraz Triathlon. This popular San Francisco Event includes a swim in the waters surrounding the infamous former prison. Hotel Union Square has special offers to welcome participants and spectators to this popular Event. View offer details >
Escape from Alcatraz Triathlon
June 12, 2016
Could anyone have escaped from Alcatraz during its time as a prison? That question has been long debated with some experts saying no such escape was possible while others maintain that the three men who meticulously planned an escape, John Anglin, Clarence Anglin, and Frank Morris, could have survived the swim from Alcatraz Island to the mainland.
This San Francisco Event gives participants the chance to swim in those same waters. Participants will begin their swim from the start boat, which departs Pier 3 at 6:30 a.m. on race day. The 1.5-mile swim is followed by an 18-mile bike ride and an 8-mile run. The course is quite challenging, and therefore is not recommended for those who have not participated in a triathlon in the past. Festival Village will open the day before the race. That is when participants can pick up their packets and attend the athletes meeting.
The Escape from Alcatraz Triathlon is capped at 2,000 participants. Those who missed registering had a second chance to compete by applying for one of the random drawing slots. Another way to take part is by teaming up with one of the charity teams that will participate in the San Francisco Event. More information about the charities and how to join one of their teams is available on the event's website.
Those planning a June visit to San Francisco can Check Rates and Make Reservations or call Hotel Union Square at 844.592.4560.
About Hotel Union Square – A San Francisco Hotel:
Built in 1913, our San Francisco Accommodations were the City's first boutique hotel. Original murals remain and are featured in the beautiful fusion of art deco and classic San Francisco style. The sleek furnishings sit amidst a rich color palate of crimson, shades of grey and earthy taupe.
The ideal location of this Union Square Hotel puts our guests in the very heart of the San Francisco Shopping district and just 1 block from the historic Cable Car Turnaround. Guests at Hotel Union Square will be a short stroll from top San Francisco Restaurants, Attractions, and Activities.
Hotel Union Square's guest rooms and guest suites feature thoughtful amenities including Complimentary High Speed Wi-Fi, On-site parking, Flat screen TVs, complimentary morning Coffee & Tea in the lobby, complimentary evening Wine Reception with a live acoustic guitar player, dog friendly (fees apply), complimentary 24-hour Business Center, complimentary use of a Fitness Center within walking distance & more.
Visitors to San Francisco can choose Hotel Union Square – a San Francisco Hotel. This boutique hotel offers an ideal location, beautiful accommodations and friendly service making Hotel Union Square a popular choice for both business and leisure guests.
The hotel's San Francisco Visitor's Guide offers information about nearby San Francisco Activities, Dining, Shopping, and Attractions.