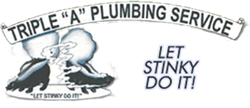 We know that nobody wants to wait around all day for a plumber so we are making it easy for people to choose us
San Jose, CA (PRWEB) June 28, 2015
San Jose plumbers at Triple A Plumbing have been serving customers in Santa Clara County for over 20 years. They are now offering a new and improved response time. Residential customers who need plumbing service or repair can take advantage of the new 60 minute response time. "We want homeowners to be able to get help fast so we have reduced our residential response time to 60 minutes. We know that nobody wants to wait around all day for a plumber so we are making it easy for people to choose us," says Tony of Triple A Plumbing in San Jose serving all of Santa Clara, San Mateo, San Francisco and Alameda Counties.
Plumbers in San Jose at Triple A Plumbing also offer customers a no cost, no obligation estimate. They do this because they want to get as many calls as possible. Companies that charge a service charge for a visit before providing an estimate are attempting to force homeowners to hire them according to Tony. "When a plumber shows up and you already owe him 50 to 100 dollars before the job even starts it makes it difficult to make an informed purchasing decision. Especially if they waive this fee for people who hire them. It puts the homeowner in a tough spot."
San Jose plumbing companies should be chosen carefully according to Tony. He says that people should do their due diligence before making a hiring decision. "Don't just let anybody into your home. Homeowners would be wise to do a little research before contracting a plumber. We have heard stories over the years where an unsavory plumber or handyman has returned a home they worked on to burglarize it. Our technicians are thoroughly screened to make sure they are safe and honest."
Triple A Plumbing is also an experienced Los Gatos plumber. Many of the homes in Los Gatos are luxurious and they require a higher level of skill to work on according to Tony. "Using the highest quality material and having the skill and expertise to get the job done right is important to our high end customers. We advise people against hiring unlicensed handymen who claim to be experienced but are not. In most cases these people cause more damage than they repair." Triple A has been serving los Gatos for decades and delivers the same high quality service there like they do everywhere else in their service area.
One of the most common calls the Los Gatos plumbers at Triple Plumbing get is for sewer repair. Many of the homes in Los Gatos are built on hills and mountains which causes more wear and tear on sewer pipes over the years. Most of the homes in the area were built using old styles clay sewer pipes. The large tree roots in the area have a tendency to break sewer pipes. Then when the pipe starts leaking the roots use the sewer line as a source of water, especially in the current drought.
Triple A Plumbing also provides repiping in San Jose including copper and PEX piping. According to Tony a lot of the companies in San Jose offering repiping are not full service plumbers, they only do repiping. This means that if an unexpected problem occurs or a required repair is revealed through the repiping process they aren't equipped to handle it. "Our plumbers are highly skilled and they have a full understanding of all of the plumbing systems throughout the home. When we do repiping jobs and a problem arises we can complete the required repairs without needing to call in another company." Like all plumbing problems, Triple A offers a no cost estimate for copper or PEX repiping.
To learn more about the San Jose plumbers at Triple A Plumbing please visit their website. People can also read their 5 star Yelp and Google reviews or watch their videos. Potential customers can also read their press releases. To take advantage of the no cost, no obligation estimate or the new 60 minute response time please call (408) 361-8102 now. A friendly dispatcher can send out and experienced San Jose plumber immediately.
Triple A Plumbing
88 S 3rd St
San Jose, CA 95112
(408) 361-8102