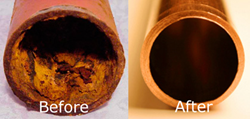 customers want a deal and we want them to use our company. We are encouraging people to call us today for a no cost estimate for their repipe needs
San Jose, CA (PRWEB) November 03, 2014
San Jose copper and PEX repiping plumbers at Repipe Masters have been serving the South Bay including all of Santa Clara County for many years. They are now offering no cost estimates and $300 off of complete water line replacement. "customers want a deal and we want them to use our company. We are encouraging people to call us today for a no cost estimate for their repipe needs," says Adam, Marketing Manager for Repipe Masters.
San Jose PEX and copper repiping contractors at Repipe Masters have been repiping Santa Clara County for many years. During the years they have built a solid reputation as one of the most respected galvanized pipe replacement and whole house plumbing contractors in the greater San Jose Bay Area. Repipe Masters is now offering no cost galvanized water pipe replacement and repipe estimates for homeowners in San Jose and throughout Santa Clara County. "San Jose homeowners should call us now. We are offering no cost estimates for complete water line replacement because many of the houses in San Jose and the rest of the Bay Area are more than 40 years old. Many of them need repiping because of problems with the existing system," says Adam of Repipe Masters.
San Francisco PEX and Copper repiping specialists at Repipe Masters say some of the most common signs a home needs a re-pipe are easy to recognize. Some of the problems include low water pressure or the shower suddenly becoming cold when someone flushes the toilet. "Galvanized water lines in San Jose and San Francisco or anywhere in the Bay Area for that matter, rust from the inside out. This means that problems are not evident until the pipe starts to fail completely. The corrosion that occurs within the old pipe could be a health hazard," says Adam. Other problems associated with this corrosion can include high levels of metals and other materials that people don't want in their drinking and bathing water.
According to Adam of Repipe Masters serving San Francisco and San Jose other reasons a re-pipe in Santa Clara County may be needed include leaky pipes. "With galvanized pipes that are severely rusted from the inside the homeowner will start to notice pin hole leaks. Depending on where the leaks are located, this water can cause major damage to the structure, especially if left unattended."
Mountain View re-piping plumbers and galvanized pipe replacement and experts serving the San Francisco Bay Area at Repipe Masters want consumers to understand that in most installation galvanized plumbing pipes last up to fifty years; however, locally things are different. "In the Bay Area we have a lot of minerals in the water and we also have chlorination. These things lead to a significantly shorter life span for galvanized pipes, we usually see original pipes lasting only 20-30 years," says Adam.
These plumbers in San Jose will perform an in home inspection of a homeowner's current home plumbing system for no cost with this announcement. If they determine that the home is in need of repiping they usually recommend PEX repiping according to Adam.
To learn more about the San Francisco re-piping contractors at Repipe Masters please visit their website. Consumers considering repiping are also invited to view their informative online videos which include a testimonial. To schedule a no cost consultation or home inspections for re-piping please give them a call now.
Triple A Plumbing
88 S 3rd St
#181
San Jose, CA 95112
(408) 361-8102