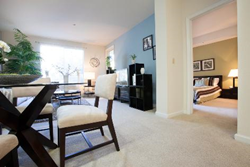 San Jose is growing as fast as it can, but the Bay Area technology boom is still outpacing those efforts.
San Jose, CA (PRWEB) January 30, 2016
Key Housing, a top-rated corporate housing service for the San Jose, California, area, is proud to announce a new informational page on their website for Silicon Valley. With San Jose the largest city in the region, the new page allows those seeking corporate housing to browse city-by-city, and (for those not familiar with the Bay Area) to find housing possibly closer to their assignment.
"San Jose is growing as fast as it can, but the Bay Area Silicon Valley technology boom is still making corporate housing harder to find than ever," explained Robert Lee, President of Key Housing. He went on in detail: "We find that out-of-towners may not realize that Silicon Valley is more than just San Jose, with cities such as Cupertino, Santa Clara, and even Milpitas included in the region. Our new page allows those seeking corporate housing to quickly locate specific cities."
To view the new informational landing page, please visit http://www.keyhousing.com/silicon-valley-corporate-housing.asp. To browse available San Jose corporate Housing please visit http://www.keyhousing.com/GMcontact.asp?location=San+Jose. At both locations, one can easily browse a variety of available short-term housing for corporate renters available in the region as a whole.
Sample Featured Community in San Jose: Bella Villagio
If Italian-influenced architecture and spacious floor plans with high ceilings and wood floors describes the place a resident would like to stay, look no further than Bella Villagio, gracious living in San Jose corporate housing. For relaxation spend time down by the pool or soak in one of the facility's two spas. Cozy courtyards and a clubhouse provide plenty of opportunities to socialize with neighbors or visiting friends. Storage space is abundant in one- and two-bedroom apartment homes, even some with attached garages/carports for added convenience.
Real estate is about location, and the Bella Villagio is in a great one, with a wide variety of nearby attractions, both useful and fun.
A wide variety of other restaurants and watering holes are located nearby as well. Everyone needs groceries and supplies, and these San Jose corporate apartments are located within minutes of numerous grocery stores and shopping centers. For more serious shopping there is Westfield Oakridge Mall. Entertainment options include the nightlife at the buzzing Santana Row. And since what's old is new again, visit the near-by West Wind drive-in movie theater, showing first-run movies in the classic setting of a giant outdoor screen.
To learn more about Bella Villagio, interested parties can view the property at http://www.keyhousing.com/rightside.asp?action=form3&ID=868. It is located at 383 Vista Roma Way, San Jose, California.
Availabilities for corporate renters cannot be guaranteed; however, Key Housing has many other available opportunities in the hot San Jose and Bay Area rental market. Interested parties are recommended to either use the website, or contact Key Housing directly for personal assistance with their temporary San Jose corporate housing needs.
About Key Housing
Based in Folsom, California, Key Housing Connections Inc. specializes in corporate housing and corporate rentals in large cities like San Francisco, Los Angeles or San Jose as well as smaller cities like Fresno, San Diego and Sacramento. Whether the need if for a serviced apartment or a short term rental, corporate housing or short term apartments, just browse our listings to find the rental that fits one's short term corporate housing needs. We are competitive with extended stay hotels in cities such as Cupertino, Santa Clara or even Long Beach, and many nurses, interns and people seeking pet friendly corporate rentals or corporate relocation services depend on us for their furnished apartment or other temporary housing needs. Whether after Los Angeles corporate housing, short term rentals in San Francisco, or a serviced apartment in San Diego - we can aid the search for the right apartment in the Golden State. After all, we're among the top-rated short-term apartment listing service in places like Redwood City, Santa Monica, Newport Beach and just about every city in California. Whether it's serviced apartments or a furnished rental, just search, click or call today!
Key Housing
(800) 989-0410
http://www.keyhousing.com/