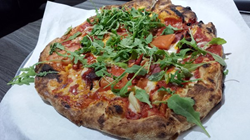 You can build your own pizza.
San Jose, California (PRWEB) June 17, 2014
Take One Pizza in San Jose is celebrating its Grand Opening with an event from 4-8 p.m., Tuesday, June 17 at 177 W. Santa Clara Street. As a perk for opening day, customers who like the Take One Pizza Facebook page and sign up for their loyalty rewards program will get a free artisan-style pizza.
"Our Director's Club Loyalty Program is really easy for our customers to use," says owner Ruell Medina. "Each dollar spent earns one VIP Point, and we will be giving out various perks for accumulated points, starting with a free pizza at 100 points."
Points are easy to accumulate as the menu is so diverse. The fast-casual pizza spot offers a build-your-own pizza, where the customer chooses his or her own toppings. "With over 40 fresh ingredients to choose from, you could order a different pizza every time you visit and never have the same thing twice," says Medina. After the toppings are selected, the pizza is baked to perfection in a fire brick oven.
Take One Pizza's menu includes a wide selection, from a gluten-free crust option to vegan cheese, for customers with dietary restrictions. Salads, soft-serve ice cream, and beer are also available. Other options are "Director's Cuts" and "Unedited Cuts" pizzas with popular topping combinations. The large indoor seating area is adorned with movie posters, while the outdoor seating area boasts a large flat screen TV for customers to watch sports while enjoying their pizza.
The Grand Opening is an exciting way for San Jose residents to try the newest restaurant in the heart of downtown San Jose.
Take One Pizza has two more locations coming soon, one in San Francisco and one in San Mateo. Learn more about them at TakeOnePizza.com and by connecting with them on Facebook at http://www.facebook.com/takeonepizza and Twitter @TakeOnePizza.