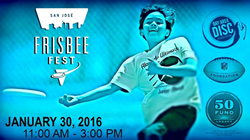 The Bay Area Disc Association continues to pave the way in providing opportunities for Bay Area youth and adults to learn and play ultimate
San Rafael, CA (PRWEB) January 19, 2016
Organized by one of US Sports Camps partners', the Bay Area Disc Association, the 2016 San Jose Frisbee Fest is a free admission, family-oriented street festival where attendees can experience Ultimate Frisbee™, Disc Golf, and Freestyle Disc. The festival offers many opportunities to meet professional players and get free discs and gear.
This festival, along with a series of other local clinics and workshops, the Bay Area Disc Association aims to foster a culture of disc sports in low-income East San Jose neighborhoods where Ultimate Frisbee™ is not yet a popular sport. The association will be distributing 500+ discs to local schools, community organizations and festival attendees, as well as giving away hundreds of jerseys, hats and beanies, and training dozens of coaches.
"The Bay Area Disc Association continues to pave the way in providing opportunities for Bay Area youth and adults to learn and play ultimate," said Siera Levenson, National Manager for Nike Ultimate Camps. "We know this festival will be top notch and lots of fun! They never deliver anything less than the best quality events, as we've seen through partnering with them to run our summer ultimate camp in Hayward."
The San Jose Frisbee Fest project is funded by a #PLAY60, Play On grant, awarded by the 50 Fund and NFL Foundation and guided by KaBOOM!. Local partners include Playworks Silicon Valley, Citizen Schools, San Jose Spiders, A-Game Disc Golf and Silicon Valley Disc Golf Club. In kind donations were made by Clif Bar.
More information about the Bay Area Disc Association and the San Jose Frisbee Fest can be found at http://bayareadisc.org.
About US Sports Camps
US Sports Camps (USSC), headquartered in San Rafael, California, is America's largest sports camp network and the licensed operator of Nike Sports Camps. The company has offered summer camps since 1975 with the same mission that defines it today: to shape a lifelong enjoyment of athletics through high quality sports education and skill enhancement. Players, coaches, parents and others interested in Nike Ultimate Camps and US Sports Camps can visit the company's website at http://www.USSportsCamps.com .