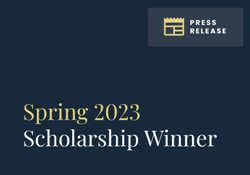 SAN ANTONIO, Texas (PRWEB) January 18, 2023
Brandon Wong & Associates is pleased to announce the first-ever winner of its scholarship, Anna Epsy. Anna has won the firm's Difference Makers Scholarship for the spring 2023 semester. She has been awarded $1,000 to put toward educational expenses in the coming semester. The firm established this scholarship to recognize and award students who aim to make positive contributions throughout their communities.
Anna Epsy is a junior at Arizona State University, where she is studying Counseling and Applied Psychological Sciences. Anna plans to use her degree to provide essential mental health services to those most in need. In her video essay, she impressed the firm with her dedication to helping members of her community who have disabilities or special needs and her desire to continue making a real difference in the betterment of her community, not only for people in need but for animals as well.
Brandon Wong & Associates place a high value on community service and strive to make a difference both inside and outside the courtroom. The Difference Makers Scholarship was created to help students, like Anna, achieve their personal educational goals while still working to make a difference in their communities.
Students in their junior or senior year of college may apply by submitting a written or video essay responding to the prompt, "What is the best memory you have made while making a difference in your community? What positive changes do you hope to make in your community in the near future? Why do you think that this type of service is important?" Applications for the next semester are due May 30, 2023.
Students may view the full list of requirements and submit an application by visiting: https://www.mwfamilylaw.com/scholarship
About Brandon Wong & Associates
Brandon Wong & Associates is a family law firm dedicated to meeting the legal needs of families in the San Antonio area. The firm offers assistance for those undergoing divorce, child custody proceedings, and issues of child support. Clients are offered both mediation and courtroom representation.
To learn more about Brandon Wong & Associates or to contact the attorneys, please visit https://www.mwfamilylaw.com/ or call 210-2013832.