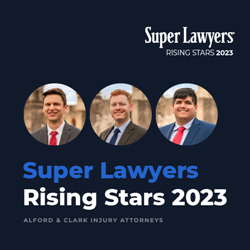 FRISCO, Texas (PRWEB) February 21, 2023
Alford & Clark Injury Attorneys is pleased to announce that three of the firm's attorneys have been named Super Lawyers Rising Stars for 2023. Attorneys Jacob Alford, Will Clark, and Ryne Bazan have each received this distinctive honor. The three Rising Stars at Alford & Clark Injury Attorneys were recognized for their work in personal injury law for plaintiffs.
Super Lawyers is a highly reputable professional organization that recognizes the top attorneys in each geographic area and practice area. Awards are based on both peer nomination and an independent evaluation of the attorney's demonstrated skill.
Partners Jacob Alford and Will Clark, both Texas natives, have demonstrated outstanding commitment to their clients and talent as trial lawyers. Mr. Alford has also been recognized as a Super Lawyer by Thompson Reuters and a Top Attorney by Texas Monthly. His focus is predominantly on cases involving commercial vehicles.
Mr. Clark has proven his prowess as a trial lawyer by winning many Top 100 personal injury jury verdicts. He continues to assist clients with a variety of personal injury cases, particularly those involving company vehicle and 18-wheeler crashes.
Senior Associate Ryne Bazan has a record of taking on difficult cases and achieving success for his clients.
Each attorney has earned the notable distinction of being named a Super Lawyer Rising Star through outstanding dedication to their clients, accompanied by a record of success in the courtroom.
About Alford & Clark Injury Attorneys
Alford & Clark Injury Attorneys is a personal injury law firm with five locations throughout Texas. The firm takes on cases involving car accidents, truck accidents, workplace injuries, and catastrophic injuries.
To learn more about Alford & Clark Injury Attorneys or to contact the firm, please visit https://www.injuredtexan.com/. If you are interested in speaking with a member of the firm's team, call 210-951-9467.