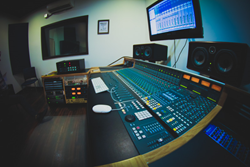 Visitors to our Open House will get an excellent idea of how SAE is the perfect choice to help them achieve their creative media career aspirations.
San Francisco, CA (PRWEB) December 02, 2014
SAE Institute San Francisco, a creative media arts college, has rescheduled and relocated its free Open House event. The event will be held at the Emeryville campus of Ex'pression College on Saturday, December 13 from 9am to noon.
"Our Open House will offer a fantastic opportunity for prospective students to learn about our career-oriented curriculum, meet our experienced faculty, speak with current students, experience our professional studios and facilities, and try out our top-of-the-line gear, equipment, and work stations," says James Cortes, Marketing Director of SAE San Francisco. "Visitors will get an excellent idea of how SAE is the perfect choice to help them achieve their creative media career aspirations."
Open House activities at SAE San Francisco will include:

Tours of studios and facilities
Student demonstrations of their current studio projects
Faculty demonstrations
Q&A panels featuring industry-leading alumni and working graduates
Information about SAE's vast international alumni network, which includes award-winning professionals who are working in film, music, television, interactive, live sound, theater, and gaming around the world
Admissions and financial aid workshops
Prizes, raffles, and contests
SAE San Francisco currently offers a diploma program in Audio Technology.
"We're looking forward to meeting new potential students who wish to take advantage of all the benefits that an SAE creative media education can bring them," says Cortes.
SAE San Francisco's Open House will be held at Ex'pression College, 6601 Shellmound Street in Emeryville on Saturday, December 13 from 9am to noon. Entry is free and open to the public. Prospective students who are interested in learning more about SAE and would like to attend the event can sign up online or call Ex'pression College at (510) 654-2934 for more information.
About SAE:
SAE Institute provides aspiring creative media professionals with a foundation of practical theory and valuable hands-on training in their chosen areas of concentration. Under the guidance of our faculty, which is comprised of working industry professionals, students gain the essential experience they need for entry-level jobs in the entertainment business. Our students are supported in their job searches by SAE's international network of alumni, many of whom are leaders in the music, film, game arts, and live performance arenas. We offer programs in audio technology across our seven US campuses, along with a music business program at select locations, all fully accredited and focused on preparing students for employment when they graduate. Bachelor's Degree programs in Animation, Audio, Film, Game Art & Graphic Design are available at the two locations of Ex'pression College, which is owned and operated by SAE Institute Group, Inc. SAE Institute Group, Inc. is a part of Navitas LTD. Learn more at USA.sae.edu.
About Navitas:
Navitas is an Australian global education leader, providing pre-university and university programs, English language courses, migrant education and settlement services, creative media education, student recruitment, professional development, and corporate training services to more than 80,000 students across a network of over 100 colleges and campuses in 27 countries. Learn more at Navitas.com.