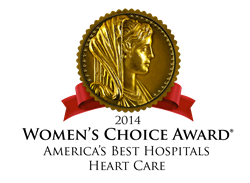 Upland, CA (PRWEB) February 11, 2014
San Antonio Community Hospital is a winner of the Women's Choice Award as one of America's Best Hospitals in Heart Care. As more women self-manage their care and seek providers they can trust, the Women's Choice Award is the only distinction that identifies the nation's best healthcare institutions and signifies San Antonio Community Hospital's commitment and passion for creating an extraordinary healthcare experience.
February is American Heart Month and it is more important than ever to raise awareness of heart care, as one in every four women dies from heart disease in the United States, according to the Centers for Disease Control and Prevention.
"The Women's Choice Award is based on robust criteria that considers patient satisfaction, clinical excellence, and what women really want when it comes to treatment and a quality hospital experience," says Delia Passi, CEO & Founder of WomenCertified, home of the Women's Choice Award. "San Antonio Community Hospital not only performed well clinically with regard to heart care measures, but it also had a high recommendation rate, a measure that is very important to women in choosing a hospital."
As the collective voice of female consumers, the Women's Choice Award provides women with recommendations they can trust, from other women. Eighty percent of women will choose a brand that is highly recommended by others and over 92 percent of women will trust a hospital more if it carries the Women's Choice Award seal, according to MedeliaMonitor, Independent Poll (2013).
"San Antonio Community Hospital is honored to receive the Women's Choice Award. This distinction recognizes our commitment to providing exceptional care with compassion in a healing environment designed to both comfort and cure. Our dedication to improving the community's health is our life's legacy and our commitment to the future," states Harris Koenig, President and CEO of San Antonio Community Hospital. "We are proud to have some of the best cardiac surgeons, cardiologists, nurses, technicians, therapists, and support staff in the region. Their exceptional skill and compassionate care have made this patient quality award possible." "To be recognized by WomenCertified is a wonderful affirmation of the excellent cardiac care I know we are providing our patients," states Dr. Nan Wang, Director of the Cardiac Surgery Program. "Our highly skilled team employs the latest technological advances to achieve the best possible outcomes for our cardiac patients."
"As the primary healthcare decision makers, women account for about 90 percent of all family choices when it comes to matters of health," added Passi. "Making quick decisions goes against her grain and women are seeking more information than ever before when making healthcare or hospital selections. Women appreciate learning from the experiences of others, as they take more time to identify the best hospitals and seek validation in their choices. Our mission is to reduce the risk for women and their families so they can make smarter healthcare choices. "
ABOUT SAN ANTONIO COMMUNITY HOSPITAL
San Antonio Community Hospital in Upland, California is a 279-bed, nonprofit, acute care hospital that combines excellent clinical care with exceptional compassion. The award-winning hospital offers a comprehensive range of general medical and surgical services, along with the latest technological advances in cardiac care, cancer care, orthopedics, neurosciences, women's health, maternity and neonatal care, and emergency services. Since 1907, San Antonio Community Hospital has emerged as a premier regional medical facility with satellite locations across the rapidly expanding Inland Empire. The hospital is in the midst of a major expansion project that will add a new 52-bed emergency department and a 92-bed patient tower comprised of 80 private rooms and 12 critical care beds on its main hospital campus. The expansion, which will be completed in 2014, positions San Antonio as a hospital of the future offering state-of-the-art healthcare services in a healing environment that is focused on the patient and family. To learn more, visit sach.org.
ABOUT THE WOMEN'S CHOICE AWARD
The Women's Choice Award sets the standard for helping women make smarter choices by collectively identifying the brands, products and services most recommended and trusted by women and those that deliver a customer experience worthy of her recommendation. Awards are based on surveys of thousands of women, as well as research conducted in partnership with the Wharton School of the University of Pennsylvania on what drives the consumer experience for women vs. men. As the leading advocate for female consumers, WomenCertified®, home of the Women's Choice Award, created the first national award based on the ratings and preferences of women to provide them with a collective voice. Women can make their preferences heard and be part of the mission toward a million voices strong by visiting the Women's Choice Award official website at http://www.womenschoiceaward.com and joining the network.