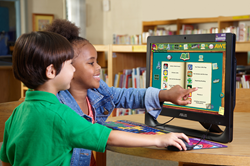 "The stations were created with children in mind. They are easy to navigate and fun to use." - Viki Ash, Coordinator of Children's Services
Chester, PA (PRWEB) March 20, 2014
San Antonio Public Library has acquired new Bilingual Spanish Early Literacy Station™ computers to replace older units within the system. The library traded in the older Early Literacy Stations as part of AWE's Trade-In Program for older units that are outside of warranty.
The Early Literacy Station is a complete, all-in-one computer system designed for children approximately 2-8 years old. It contains more than 60 pre-loaded educational software programs that include hundreds of Spanish-language, English-language, and bilingual activities.
The Early Literacy Station offers children a safe, stand-alone touchscreen workstation that does not require an Internet connection. Content spans all curriculum areas (reading, language arts, math, science, STEM, social studies, writing, graphic arts, typing, music, and more) and aligns with state and national standards. It also features a host of administrative features including timed sessions and use tracking.
"The Early Literacy Stations have proven to be very popular with young children and with their parents," said Viki Ash, Coordinator of Children's Services. "The stations were created with children in mind. They are easy to navigate, fun to use, and have many games/programs that are available in both English and Spanish."
"The San Antonio Public Library offers preschool children and their caregivers the opportunity to engage in a multitude of early literacy programs," explained Ramiro Salazar, San Antonio Public Library Director. "The Library is a place where reading and learning can be enjoyable and valued activities for families. Through a range of books, songs, and other interactive elements such as the AWE computer system, the Library has created spaces for children to enjoy literacy-rich, hands-on experiences in an interactive and caring environment."
The Early Literacy Station, AWE's flagship product, is found in more than 40% of the public library systems across the United States. It is also found in Canada and other countries. The Early Literacy Station is available in English, Bilingual Spanish, and Bilingual French.
###
About San Antonio Public Library (http://www.mysapl.org)
The San Antonio Public Library: changing lives through the power of information, imagination, and ideas. For more than 110 years, the award-winning San Antonio Public Library has been a vital center for free learning, knowledge, communication, culture, and enjoyment for the whole community. With a world-class Central Library, 25 branch libraries throughout the city, and an extensive collection of e-books and online resources, the San Antonio Public Library is as close as around the corner, the nearest computer or smartphone.
About AWE, Inc. (http://www.awelearning.com)
AWE's mission is to inspire children to become lifelong learners and to create a "community learning" network that includes public libraries, schools, child care centers, and the home. AWE's engaging digital learning solutions feature intuitive learning environments, are easy to use, feature educational content across all subject areas, and can be personalized for every child. For more information, visit http://www.awelearning.com.