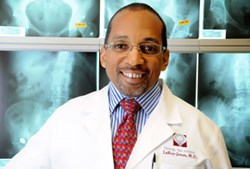 San Antonio, Texas (PRWEB) September 10, 2013
San Antonio urologist, LeRoy Jones, M.D., has launched a new website, edtreatmentsanantonio.com. Dr. Jones specializes in men's urologic health and is recognized as an expert in erectile dysfunction (ED) treatment and male incontinence. The website provides educational information for patients seeking knowledge and solutions for erectile dysfunction, low testosterone, male incontinence, Peyronie's disease, premature ejaculation, male infertility and prostate problems.
Many men suffer from erectile dysfunction silently because they are embarrassed to discuss it with their physicians; however, it is a very common condition in older men. According to The Massachusetts Male Aging Study, age is the variable most strongly associated with erectile dysfunction. At age 40, ED affects approximately 40 percent of men. The rate increases to nearly 70 percent in men who are age 70. The prevalence of complete ED increases from 5 percent to 15 percent as age increases from 40 to 70 years. Dr. Jones is passionate about educating men on the wide range of ED treatment options.
There are a variety of non-operative and operative treatment options for erectile dysfunction and male incontinence. Dr. Jones is a highly regarded for his expertise in treating male stress urinary incontinence with surgical solutions including artificial sphincters and male mesh slings. Dr. Jones is also one of the most experienced urologists in the field of prosthetic urologic surgery. Dr. Jones is ranked among the top 1 percent of urologists in the world who perform more than 80 prosthetic surgeries a year for male incontinence and ED treatment, including inflatable penile prosthesis and artificial urinary sphincter placements. On average, Dr. Jones performs 200 prosthetic urologic surgeries each year.
Dr. Jones is a board-certified urologist and partner at Urology San Antonio. As a member of both The American Urological Association and Sexual Medicine Society, he is an active researcher in male incontinence and ED treatment techniques as well as other issues related to men's urologic health. His work is frequently published in medical journals.
Dr. Jones has been serving the South Texas area since 1996. He sees patients at the Urology San Antonio Center for Men's Health & Wellness.
About Dr. Jones
In 1983, San Antonio urologist, LeRoy Jones, received his undergraduate degree from the University of Colorado, Boulder. He then completed his Doctor of Medicine from Washington University Medical School, St. Louis in 1988. Following his completion of medical school, he served his surgical residency at Johns Hopkins Hospital in Baltimore from 1988 to 1990 and his urology residency at Baylor College of Medicine in Houston from 1990 to1994. In 1996, Dr. Jones was certified by the American Board of Urology and re-certified in 2004. Although he works in private practice, Dr. Jones remains involved in academic medicine through his work as an Associate Clinical Professor in the Division of Urology at the University of Texas Health and Science Center in San Antonio.