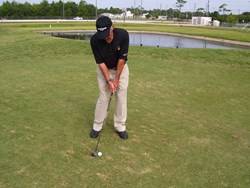 Blade Runner Golf Reveals Secrets on How to Accomplish New Success with Your Short Game Using a Remarkable Design in Hybrid Sand Wedges
Nationwide (PRWEB) December 10, 2013
Blade Runner Golf has several tips on how one can greatly improve their short game so they can make their own sand wedge comparison using one of their existing clubs against a Black Magic hybrid wedge. One will see instantly the many advantages that the Black Magic 56 degree sand wedge offers from short bump and run shots to full distant shots.
The first tip is how to hit a shot from a few feet to 25 yards that one wants the ball to stay close to the ground and as straight to the target as one can roll it. First, the player wants to set up with a square club face and with their hands 4 to 5 inches ahead of the club head. Using an abbreviated putting stroke make contact about half way up on the ball with the leading edge staying square to their target not allowing their hands to roll over. This will keep the ball very low to the ground.
For short shots that need more air time, set up the same way with one's hands in front of the club head making a fluid arc with your swing and sliding the club under the ball with a nice high finish. The feeling should be like pitching a soft ball underhand to a batter.
For flop shots, set up with the hands ahead of the club head and the face open quite a bit. Take the club away so that you can cut across the ball at contact with a nice high finish. These shots require a steady smooth control.
For full shots that stop on a dime, make a complete back swing and make solid contact to the back of the ball with one's hands leading using a square club face and taking a divot out in front of the ball with a nice long follow through. This will produce those shots that will stop quickly.
Bunker shots will become routine when set up with the hands a little bit ahead of the club and the face open. The player will want their swing to come from the inside of their target line entering the sand about 3 to 6 inches or so behind the ball with the hands leading making a complete swing to the target.
ABOUT:
Blade Runner Golf, Inc. is a company devoted to the notion that a golfer's short game can make all the difference in his or her final score—but you can take your short game to the next level only if you have the right equipment. Black Magic's hybrid wedges Conform to USGA rules, but also helps golf enthusiasts find new precision and power as they make their way onto the putting green and they can be accessed on the web at: http://www.blackmagicwedge.com.
Contact:
Black Magic Wedge
10850 Dover Street
Suite 500
Westminister, CO 80021
Toll Free 877-799-6099