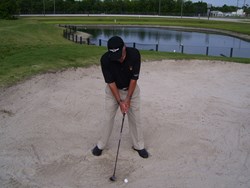 Black Magic Sand Wedge Reviews Reveal the Best Wedge for the Majority of Players.
Nationwide (PRWEB) October 10, 2013
The short game is critical for success with every person who plays this great game, but so many players have little or no confidence when a wedge shot is necessary to get the ball on the green from the many unknown circumstances that surround every green.
The big breakthrough with the Black Magic sand wedge irons offers many advantages for players helping them to shoot lower scores. First is the zero degree bounce angle at impact which means the sharp leading edge of this club will dig into all surfaces, but as the club moves forward, it will ride on a continuous bounce angle. This allows the player to complete the swing naturally with good results consistently.
Another advantage with this sand wedge is the placement of the hosel which is attached to the body instead of the face. This design eliminates the chance of a shank and allows for the leading edge to wrap completely around the heel of the club so players can easily lay the face open for great lob wedge shots that can help save strokes many times in a round of golf.
Bunker shots have always been a problem for many players. One reason is gauging the right distance to enter the sand behind the ball which is approximately 2-1/2 inches for best results with standard wedges. With the new bounce angle with the Black Magic Wedge allows players to enter the sand as much as 8 inches behind the ball without worrying of getting stuck in the sand. This club will slide smoothly through the sand whether it is soft or hard so players can complete their follow through every time.
For more information about this top golf equipment review, from customers along with many short video tips on how this hybrid sand wedge and all the golf wedges Black Magic carries that can save many unnecessary strokes, visit their website which is a complete online store.
ABOUT:
Blade Runner Golf, Inc. is a company devoted to the notion that a golfer's short game can make all the difference in his or her final score—but you can take your short game to the next level only if you have the right equipment. Black Magic's hybrid wedges Conform to USGA rules, but also helps golf enthusiasts find new precision and power as they make their way onto the putting green. Black Magic Wedge can be accessed on the web at: http://www.blackmagicwedge.com.
Contact:
Black Magic Wedge
2519 McMullen Booth Rd
Suite 510-129
Clearwater, FL 33761
Phone 727-726-5737
Toll Free 877-799-6099