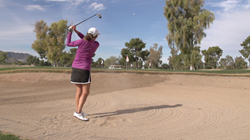 Black Magic Golf selling innovative sand wedge.
Westminster, CO (PRWEB) March 07, 2014
Black Magic Golf offers a sophisticated 56-degree golf wedge to the golf market which is designed to help golfers hit better bunker and recovery shots. The company's proprietary hybrid sand wedge design doesn't just remake the ordinary. Instead, it greatly improves on the concept by incorporating a smart face forward design, which allows even high handicap players to gain an open clubface for unbelievable flop shots and high, soft bunker shots. The face forward, moves the hosel of the club back, creating a shank proof golf club that reduces chunks golfers struggle with using standard clubs.
"Stepping up to a ball lying in deep rough or in a bunker intimidates many golfers. Even some with sufficient skills in driving, commanding fairway shots and good putting habits find themselves sometimes helpless to get out of the sand or thick rough. We want to make the game enjoyable. So, we're addressing some of the largest challenges by making trouble shots easier. Our sand wedge is designed to make golf easier while maintaining USGA specifications," Brad Cochran, General Manager of Black Magic Golf, noted about the perils of the short game and remedies for the same.
The approach to making an advanced sand wedge is to take a very in-depth look at the most common mistakes players make when trying to get out of difficult situations like sand traps and tall grass. Not surprisingly, there's a tendency to over or under compensate in the swing, producing a shank or chunking effect.
"If a player feels confident about their shot with a particular club, then they've conquered the battle of doubt. Golfers know this is a huge obstacle to overcome. Our "HWedge" in a sand wedge loft is designed for every golfer. By easily providing proficiency for practically any skill level, we are helping golfers transform their game. Not through gimmicks, but actual science and the benefits of hybrid club advancements we've been able to produce a set of innovative golf clubs," Cochran added.
Black Magic Golf stresses that players ought to take the time to find the best fit for their needs. The company prides itself on the high level of quality of its products and the benefits those clubs give to people of all skill levels.
About:
Black Magic Golf invented the hybrid golf wedge known as the HWedge with their patented face forward design with USGA legal wedge grooves and a large sweet spot to assist with off center shots. Black Magic Hybrid Wedges help golf enthusiasts find new precision and high, soft shots as they make their way onto the green. Black Magic Wedges come in 37º, 48º, 52º, 56º and 60º Right Hand Lofts and 56º Left Hand Loft.
The HWedge is available online through blackmagicwedge.com.
Contact:
Brad Cochran, General Manager, brad(at)blackmagicgolf(dot)com
Black Magic Golf, 10850 Dover Street, Suite 500, Westminster, CO 80020 or call Toll Free 877-799-6099.
To See YouTube Video featuring actual testimonials of golfers who tried the Black Magic Hybrid Wedges please visit this link - http://youtu.be/ejzpaJVar4I.