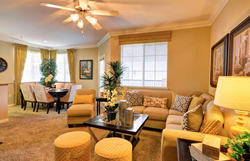 Anyone who finds they need to temporarily relocate to San Diego will probably be pretty happy.
San Diego, CA (PRWEB) April 28, 2015
Key Housing, a provider of San Diego short term housing at http://www.keyhousing.com/, is proud to announce their May 2015, featured apartment community: The Missions at Rio Vista. By selecting a featured apartment community in San Diego, Key Housing is helping those people looking for corporate housing to find quality housing in what is one of the tightest apartment markets in the United States.
"Anyone who finds they need to temporarily relocate to San Diego will probably be pretty happy," observes Robert Lee, President of Key Housing. "The city is beautiful and the climate inviting, but those feelings can change when they look at the short-term housing situation there. We have many people seeking affordable housing in San Diego who are frustrated at the lack of affordable corporate apartments in San Diego and Southern California. Therefore, we have selected one of our most impressive partners to be featured in May."
The featured apartment community for May 2015 is The Missions at Rio Vista. The complex is located at 2242 Gill Village Way, in San Diego, California. Interested parties can view the property at http://www.keyhousing.com/rightside.asp?action=form3&ID=744. To browse other available San Diego corporate apartments, please visit http://www.keyhousing.com/GMcontact.asp?location=San+Diego. At both locations, one can view the wide variety of available short-term housing for corporate renters available in the city.
Exciting Features of May's Featured San Diego Corporate Apartment Community
The Missions at Rio Vista is in the Mission/Fashion Valley district of sunny San Diego. Being centrally located, these corporate apartments are just minutes away from the major freeways, and distance of all the Fashion Valley amenities: shopping centers, movie theaters, and restaurants. Whether it's a trip to downtown, relaxing at one of the sunny beaches in San Diego, taking a trolley ride to Old Town or strolling along the San Diego River, residents are never be far from home.
The Missions at Rio Vista offers single or multi-bedroom floor plans, so residents can choose what best fit their needs. These corporate apartments have an all-electric gourmet kitchen, and many have spectacular views from one's own private balcony/patio. Plush wall-to-wall carpeting are standard, as are full-size washers/dryers and large walk-in closets. High ceilings help keep things cool, but of course there is central air conditioning/heating for those (rare) days when the weather isn't fabulous.
The Missions at Rio Vista offers many community amenities for residents to enjoy such as, our lagoon style pool, lap pool, 24 hour state-of-the-art fitness center, and a barbeque/picnic area, perfect for enjoying San Diego's mild climate. To keep up-to-speed with work, there's also a business center with high-speed internet; the on-site management team is also available to help make life simpler with services like package acceptance. We are also a pet-friendly community in Mission Valley, so residents can enjoy all the comforts of real living, including those friendly dogs or cats.
Availabilities for corporate renters cannot be guaranteed; however, Key Housing has many other available opportunities in the hot San Diego and Southern California rental market. Interested parties are recommended to either use the website, or contact Key Housing directly for personal assistance with their San Diego temporary corporate apartment needs.
About Key Housing
Based in Folsom, California, Key Housing Connections Inc. specializes in corporate housing and corporate housing in large cities like San Francisco, Los Angeles or San Diego as well as smaller cities like Torrance, Tracy and Tustin. Key Housing is a leader in affordable, friendly, short-term and corporate housing housing in places like Los Gatos, Laguna Beach, Sherman Oaks and just about every city in California. Whether it's serviced apartments or a furnished rental, just search, click or call today!
Key Housing
(800) 989-0410
http://www.keyhousing.com/