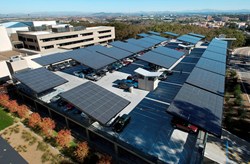 With energy prices about to spike, this vote couldn't come at a more opportune time for San Diego County businesses
San Diego, CA (PRWEB) August 09, 2013
The San Diego County Board of Supervisors has voted to bring the job-creating benefits of California's most active commercial PACE provider – FIGTREE – to the region to help property owners finance money-saving energy efficiency, solar and water conservation improvements.
This week's vote comes on the heels of a round of FIGTREE financing successes that made California commercial PACE history. FIGTREE Energy Financing has funded more commercial PACE projects in California using no public monies than any other provider.
PACE (Property Assessed Clean Energy) is a new breed of financing that provides commercial property owners with up-front private-sector capital to realize the money-saving benefits of energy efficiency, renewable energy and water conservation upgrades based strictly on property values – usually 10% of an assessed property's value, sometimes more.
"PACE is another tool in the pro-business tool kit the County is making available to contractors and property owners to create jobs, slash energy costs and improve the integrity of our region's building stock," said San Diego County Supervisor Dave Roberts, who co-sponsored the legislation to bring PACE forward. This week's action adds both FIGTREE and HERO's commercial PACE programs to the County of San Diego's menu of PACE providers.
"San Diego County is a bastion for small businesses," continued Supervisor Roberts. "Adding FIGTREE's financing model to the County's offering of PACE providers brings the minimum threshold for qualifying projects down from $50,000 to $5,000. Today's vote helps put the benefits of solar and energy efficiency improvements within reach of most any commercial property owner," he said.
The City of San Diego and the cities of Oceanside, Santee, San Marcos and Vista have also recently opted into FIGTREE's PACE financing program.
PACE requires no money down, no minimum FICO score and provides for attractive off balance sheet financing that doesn't impact a property owner's credit score or capacity to borrow for other business needs. FIGTREE finances projects from as little $5,000 into the millions of dollars, many of which qualify for healthy federal tax credits and cash incentives. FIGTREE's unique brand of financing is available for commercial, industrial, office, retail, agricultural and multi-family properties of five or more units.
PACE funds can be used for materials and labor costs of permanently-installed improvements that reduce a building's use of grid-supplied energy or water. Solar photovoltaics (PV) and solar water heating; wind and geothermal; cool roofs; intelligent heating and air conditioning (HVAC); energy-efficient lighting; windows, door and elevator upgrades; boilers and chillers; water treatment and conservation improvements, fixtures, xeriscaping and electric vehicle charging stations are some of the projects eligible for financing under the program.
"With energy prices about to spike, this vote couldn't come at a more opportune time for San Diego County businesses," observed FIGTREE CEO Mahesh Shah. "The County of San Diego's accelerated efforts to assess options to improve the County's current PACE program is to be commended. And the County's intent to provide a competitive PACE marketplace that brings freedom of choice to property owners and affords them secure, market-proven options to finance improvements is proof that innovative public policy can help economies thrive," Shah said. "We're eager to get to work and validate the prudence of this week's Board action."
FIGTREE PACE financing is available via an assessment district established by the California Enterprise Development Authority, a joint powers authority of the California Association of Local Economic Development (CALED), a non-profit who works in partnership with cities and counties across the state. With the County of San Diego's approval this week, FIGTREE is currently approved in 37 California cities and counties, with more joining the program each month.
FIGTREE's PACE program has been endorsed by the California Building Industry Association, California Business Properties Association, Building Owners and Managers Association (BOMA), Region Builders, Inc., contractors, energy professionals and municipal sustainability and economic development professionals throughout California.
ABOUT FIGTREE PACE: FIGTREE is a full-service, San Diego-based clean energy finance company providing breakthrough, 100% up-front off balance sheet PACE (Property Assessed Clean Energy) financing to help commercial and residential property owners improve their properties and realize the money-saving benefits of energy efficiency, renewable energy and water conservation upgrades with no money down. FIGTREE helps cities and counties create jobs, spur economic development and meet their AB 32 goals utilizing no public monies. FIGTREE is the first company in California to successfully raise private capital for commercial PACE projects via a multi-jurisdictional bond issue. Learn more by calling 1-877-577-7373 or visit us at http://www.figtreecompany.com.