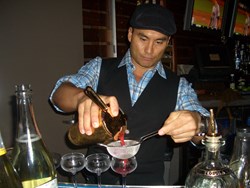 Make love not war - except where cocktails are involved with the Cocktail Wars.
San Diego, CA (PRWEB) August 16, 2013
Make love, not war — except when cocktails are involved.
After weeks of pouring, shaking and mixing, battling, sipping and baring their proverbial teeth in a series of Cocktail Wars at locales across San Diego, 12 elite bartenders and mixologists remain, ready to go head to head for a final, brutal challenge featuring a yet-to-be-disclosed ingredient at the San Diego Spirits Festival's Ultimate Cocktail Wars on Saturday, Aug. 24 at 2 p.m. at the Port Pavilion's upstairs View Court on Broadway Pier (1000 N. Harbor Dr.) in Downtown San Diego. Nearby, Motley Crue frontman Vince Neil will be perched in a blingy Vegas-style setup, unveiling his new Tatuado Vodka. The contenders are:
Mike Yen - L'Auberge Del Mar (winner of the last battle on Aug. 14 at Jsix Restaurant & Lounge)
Cervantes Magana - Medicine Show Tonics & Elixirs
Curtis L. Woods - Cat Eye Club
Robert Yumul - Brooklyn Girl Eatery
(The above four bartenders were tasked with using: Canadian Mist Whiskey, Bracero Tequila, Montelobos Mezcal, Banks Rum, 619 Vodka, Simply Vino Bubbly, Wild Hibiscus Flowers and a mystery ingredient: Lucky Buddha Beer)
Chris Burmeister - Hiatus Lounge
Chris Burkett - Cusp Dining & Drinks
Antonio Gonzalez - The Tavern
Scott Moises - La Valencia
Gilbert Marquez - El Carmen
Daniel Palacios - Lions Share
Evgeny Anisimov - Grant Grill
Mark Goody - Saltbox and Prohibition
The San Diego Spirits Festival is designed to celebrate the vibrant world of cocktails, attracting brands from across the country and even internationally. There'll be bartender battles, flashy displays from top and emerging cocktail brands, educational opportunities to learn about mixology, visual artists creating piece before guests' eyes, professional burlesque dancers from local troupe Drop Dead Dames and more.
Last year's festival attracted over 4,000 people from across the US and around the world, including liquor companies both internationally and nationally. This year, local chefs, including KOA's Jess Ledesma, a recent Hawaii transplant, will be serving food to absorb some of that fine alcohol coursing through their systems. This week and next, bartenders are battling it out in local bars and restaurants across the county in anticipation of the big event.
Last year, Fodor's named the San Diego Spirits Festival one of the Best Cocktail Festivals in America and US Traveler ranked it second on the list of worldwide cant-miss festivals. (sandiegospiritsfestival.com)
advancing
The festival fuels the San Diego economy in a big way. The 4,000 attendees over the two-day festival last year generated in excess of 1,000 hotel room bookings. A 2012 survey showed that over 25 percent of all festival attendees stayed at least one night downtown, and we're encouraging this year's attendees to extend their stay through hotel partnerships. Average room rates were in excess of $200 per night. Spirits Festival attendees are known for being flamboyant in their restaurant expenditures, furthering their impact on the local economy.
For more information, visit http://www.sandiegospiritsfestival.com.
###