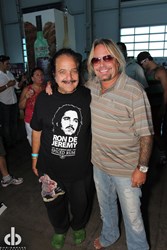 Vince and Ron Shake it Up at the 5th San Diego Spirits Festival
San Diego, CA (PRWEB) August 30, 2013
Headlining at the 2013 festival was Motley Crue Front man Vince Neil who showcased his Tatuado Liquor. On Sunday Vince Neil assisted Executive Chef Peter Edwards with a cooking demonstration using his Tatuado Vodka. Executive Chef Peter hails from the Bel Air Bay Club in Santa Monica.
Not to be outdone Ron Jeremy assisted Executive Chef Scott Wagner with a rum inspired creation and brought the house down. The Sunday Chef Shakedown's first place goes to Executive Chef Charles from Roy's of La Jolla. A strong team has been put into place for the 2014 San Diego Spirits Festival culinary component including Chefs David Chenelle, Jess Ledsman, Scotty Wagner and Peter Edwards. A big thank you must go out to Shamrock Foods, Newport Meats and Open Blue
On Saturday interim Mayor Todd Gloria handed a proclamation to festival founder Liz Edwards proclaiming San Diego Spirits Festival Day for the City of San Diego.
Top bartenders went head to head for the final Cocktail Wars as contenders were challenged to create a cocktail in front of the judges, the final four had a secret ingredient Fire Eater Hot Cinnamon Whiskey. The final round was close, with only points between the Winner Cervantes Magana and Mike Yen, which was followed closely by Daniel Palacios and Chris Burkett. Master Distiller Johnny Schuler joined the judge's panel.
The San Diego International Spirits Competition was held in conjunction with the San Diego Spirits Festival. A highly-qualified panel of spirits judges from throughout California evaluated the entries using a proprietary scoring system that evaluated each spirit on a number of factors, including taste, appearance, aroma and commercial suitability. With one Double Gold, eight Gold medals, 26 Silver and 10 Bronze, the judges at the competition awarded these distinguished medals to the best of the best. Results will be announced in a separate release.
New Brands that Debuted at The San Diego Spirits Festival: Failte Innovations/Failte Vodka was extremely excited to be taking part in the San Diego Spirits Festival. Although a last minute entry they knew they had to be part of what festival brings to the industry. Other brands launching at the festival included Dulce Dorado Tequila and Manzanita Distilling with both their moonshine and vodka.
Gold sponsors included Brown Forman Brands with Canadian Mist Whiskey, Old Forestor Whiskey, Woodford Reserve Bourbon and Fire Eater Hot Cinnamon Whiskey. William Grant & Sons with Milagro Tequila, Hendricks Gin, Montelbelos Mezcal and Hudson's Whiskeys. Sabemos Beverages with Zephyr Gin, Bracero Tequila, Lucky Buddha and Left Coast Brewing Company.
Silver sponsors: Bendistillery takes a permanent residence on the back pier with their air-stream and Crater Lake branded Cadillac. Other silver sponsors included McCormick's distilling with 360 Vodka brands, Tequila Rose, Triple Crown Whisky, Mt Cook Rum and Tarantula Tequila's. Zing Red Velvet Vodka and Pisco Porton.
Bronze Sponsors: Diplomatico Rum and Distillery 209 Gin and Roaring Lion Energy Drink
The 2013 San Diego Spirits Festival transformed every cocktail desire into a reality with some of the hottest brands •Java Juice •El Cartel Tequila •Naughty Cow Liqueur •Twisted Shots •619 Vodka •Voo Vodka •Zu Vodka •Black Momma Vodka •Dirty Tequila •Venom Vodka •Peregrine Rock – California Pure Malt Whisky •Mojo Vodka •Tequila Fortaleza •Julio Cesar Chavez Tequila •Agwa Cocoa Leaf Liquor •Mickey Fin Whiskey •Aga Vie esprit de Agave •Buzz Ballz •TeQava Sparkling Tequila Cocktail •Snap •Sage •Solerno •Rhubarb •Rx Bitters •Auchentoshan Single Malt Whiskey •Mazanita Beers plus more…
Guests were entertained by the incredible Drop Dead Dames Burlesque, Samba Dancers and pop Diva Indigo.
Fodor's named the San Diego Spirits Festival one of the Best Cocktail Festivals in America and US Traveler ranked it second on the list of worldwide can't-miss festivals.
About San Diego Spirits Festival:
San Diego Spirits Festival was founded and launched in San Diego in 2009 by Liz Edwards. San Diego Spirits Festival is a nationally acclaimed celebration of cocktail culture, and is the premiere West coast spirits festival held on the beautiful San Diego bay. With bartender competitions, tastings, seminars and parties, the festival offers a one-of-a-kind opportunity for brands to be supported and gain recognition among San Diego's cocktail and culinary community and beyond.