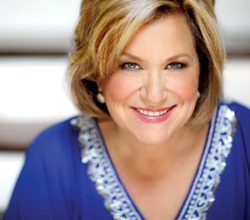 I absolutely love the people and the city of Atlanta, it's always so much fun to get to sing there
Atlanta, Ga. (PRWEB) August 20, 2014
Multi-platinum contemporary Christian recording artist Sandi Patty is bringing her highly anticipated The Everlasting Tour to Marietta, Ga., on Sunday, Oct. 5, at the Mt. Bethel United Methodist Church. The concert will begin at 6:30 p.m.
"I absolutely love the people and the city of Atlanta, it's always so much fun to get to sing there" stated Patty. 'There is a gracious spirit that runs though all of it's people and you can absolutely feel it in the air, so full of life and joy. I am very excited".
Patty's very special guest for the evening will be the new and exciting group Veritas. The unmistakable sound of Veritas brings a fresh approach to the contemporary classical genre. Their style is fashioned from a fusion of artistic excellence, creative pursuit and a performance that promises to inspire an audience of any distinction.
The Mt. Bethel Chancel Choir, under the leadership of Ira Pittman, will join Patty and Veritas on stage.
"We are excited to bring an artist the caliber of Sandi Patty to the beautiful sanctuary of Mt. Bethel," said Thomas House, owner of TWH Productions and the event's promoter. "Atlanta loves Sandi Patty and the early response from the church and the community has been fantastic. We have heard from people who are driving in from as far away as Birmingham, Ala., and Charlotte, N.C., to attend the event. We certainly anticipate a sellout."
Concert attendees can expect an evening of inspiration and worship filled with a mix of Patty's iconic songs and selections from Everlasting. Veritas will be featuring music from their debut, self-titled release, which will be available Sept. 9.
The concert will be held at Mt. Bethel United Methodist Church, located at 4385 Lower Roswell Rd. Marietta GA. Concert begins at 6:30 pm. Doors open at 5:45 pm
Tickets are on sale now and may be purchased online at Attendstar.com (Key Word - Sandi Patty) or by phone at 855-223-1008.
About Sandi Patty
Sandi Patty is contemporary Christian music's most decorated female artist. She has won five Grammy Awards, four Billboard Music Awards and 40 Dove Awards and was inducted into the Gospel Music Hall of Fame in 2004. Her eloquent vocals and stunning range have given her the nickname "the Voice." In addition to her music, she has authored numerous books and has been a frequent speaker and performer with Women of Faith.
Patty's records have sold more than 12 million units with three certified platinum and five certified gold. Her latest album, Everlasting, was released as a Target exclusive, entering the market as the top-selling recording of its kind. It was recently nominated for Inspirational Album of the Year in the upcoming Gospel Music Association Dove Awards. She is set to release a new Christmas recording, Christmas Blessings, in October 2014.
To learn more about Sandi Patty, her music and tour dates, visit http://www.sandipatty.com. TWH Productions can be found at http://www.twhproductions.com.
Media Contact
Thomas House
404-695-5953
Twhproductions(at)gmail(dot)com