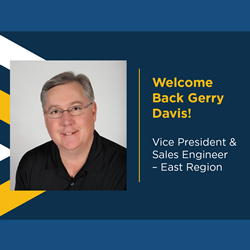 REDONDO BEACH, Calif. (PRWEB) October 20, 2021
Sandler Partners, leading technology solutions broker and one of the nation's fastest-growing private companies welcomes Gerry Davis to the team as Vice President, Sales Engineer, East Region. In his new role, he will primarily support our Partners in the Eastern Region with structuring complex opportunities, but will also aid our internal Sales, Marketing Department, Solutions teams, and even non-East Coast aligned Partners with his technical knowledge and experience.
Partner agents will benefit company-wide from his subject matter knowledge in Cloud, security, data networking, hosting, colocation, virtualization, backup, managed services, and CPE solution design/engineering/consulting. Gerry, Senior Vice President of Sales & Complex Solutions, will also provide technical training for Partners and the Sandler Partners team.
With over 20 years of vast industry experience — teaching, consulting, corporate, healthcare, and government — he brings a broad and exacting viewpoint that can only benefit our Partners. Gerry is known for serving as the ultimate arbiter of quality, when he's happy with the standard delivered, you know it's good to go!
Gerry joins us at an interesting time, as we actively build out our portal tools — with Solutions Finder, SCOUT auto pricing, and the Marketing Center as recent examples — but highlights the importance of human capital, intelligence, and expertise. We give the tools to help our partners achieve, but we also give the tangible support network, embodied by Gerry and the whole engineering team, to elevate our community and set the bar in a very competitive industry.
"I'm glad to have Gerry as part of the Sandler family and already know the impact he can have with the Sandler Partners' community," states Eric. "It's important that our leaders have the ability to be hands-on, understanding all the challenges agents, customers and providers face, and how we can rise above them. Gerry fits into that mold, and I look forward to working with him — welcome Gerry!"
About Sandler Partners
Sandler Partners is America's fastest-growing technology solutions brokerage and distributor of connectivity and cloud services. In 2021, Sandler Partners was included on the Inc. 5000 list of America's Fastest-Growing Private Companies for the 12th straight year. Over the years, we've expanded beyond our telecom roots to deliver best-in-class cloud, colocation, mobility, continuity, and security solutions from 200+ suppliers through a network of 9,000+ expert technology sales partners — agents, VARs, and MSPs — to thousands of small, medium, and enterprise organizations nationwide.