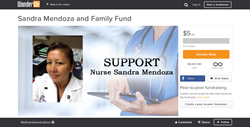 Kansas City, MO (PRWEB) July 14, 2016
All across the country, American citizens are being forced to violate their consciences when it comes to abortion. Recently, Sandra Mendoza, an Illinois pediatric nurse, lost her job because of her commitment to protecting life. Last year, the Public Health Administrator for the Winnebago County Health Department mandated that Mendoza would have to violate her beliefs by assisting in provision of abortion referrals and abortifacient drugs. Mendoza refused, and subsequently lost her job. Losing her source of income has had a terrible strain on Mendoza; she lost her health insurance and her struggle to find the dollars to send her grandchildren to Catholic school has become even more difficult.
Through WonderWe, a groundbreaking crowdfunding site built on the foundation of welcoming traditional value causes, Mendoza has found her support. WonderWe works to provide a vehicle for campaigns that support individuals like Mendoza who are struggling financially because of their steadfast belief in the sanctity of life. Her refusal to give in and violate her commitment to God is inspiring, and WonderWe is honored to provide a crowdfunding platform to raise funds for Ms. Mendoza as she works to continue to support her family.
In a world where online crowdfunding has become a prominent and important source of fundraising for a variety of causes, WonderWe LLC looks to separate itself from the norm by its unique focus on "moral fundraising", and its special emphasis on pro-life and freedom of conscience values.
WonderWe has all the features of these big-name sites, yet with an unmatched moral compass and company culture. By truly embracing the dignity of human life from conception to natural death, WonderWe fills a critical need in the crowdfunding industry, by offering a crowdfunding platform that perfectly aligns with their pro-life beliefs.
WonderWe provides the total package for a crowdfunding site, with a special peer-to-peer feature, a video share feature, and a zero-fee pricing model. It is a natural home for Mendoza's campaign, acting as a refuge for her, and for others embarking on traditional value campaigns, by seeing their causes not as divisive or controversial, but as essential and important.
About WonderWe LLC
WonderWe is a crowdfunding technology company based in Kansas City, Missouri that is dedicated to providing easy and free fundraising for faith, family and friends. WonderWe is inspired by the awesome potential for positive change when online connectivity combines with traditional values. The WonderWe platform engages cutting edge crowdfunding features to unify campaigns with existing communities. For more information on WonderWe, visit WonderWe.com