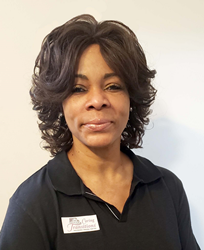 Having a company like Caring Transitions that can advocate for you and help you through your transitions can make a big difference and it's an honor that I will now have the opportunity to fill that role for seniors and families in my area. - Sandra Tillman
BERLIN, N.J. (PRWEB) October 28, 2019
Veteran and passionate senior advocate Sandra Tillman is pleased to announce the launch of her new business – Caring Transitions of Southeast Jersey.
Caring Transitions' specially-trained professionals handle decluttering, organizing, packing, moving, resettling, in-home estate sales and online auctions, estate clearing and preparing homes for market. This new senior-focused relocation and estate-clearing company serves Atco, Berlin, Clementon, Gibbsboro, Glassboro, Hammonton, Waterford Work, West Berlin, Williamstown, Clayton, Franklinville, Landisville, Malaga, Monroeville, Newfield and the surrounding areas.
"My mom is a long-distance senior and, when she moved into her own place, it was a rough transition. It helped me see how, when people get older, they often find themselves at the mercy of others. Having a company like Caring Transitions that can advocate for you and help you through your transitions can make a big difference and it's an honor that I will now have the opportunity to fill that role for seniors and families in my area," Tillman said. "My team's top priority is providing a total solution for seniors – we want to give them the peace of mind they need to be safe, secure and comfortable."
Caring Transitions' services are perfect for managing the many aspects of a senior move or assisting with the process of downsizing to provide a safer living situation, as well as for busy families and people clearing out the home of a loved one who has moved into assisted care or passed away. All of Caring Transitions' services are customizable, so clients choose the solution that best fits their needs.
Tillman is a United States Army veteran who continues to serve in the United States Army Reserves. She has more than 19 combined years of service and, during that time, she worked in supply chain and recruiting as well as an instructor. She has also been an independent hairstylist for 9 years and is two classes away from completing her bachelor's degree in business management.
"I didn't want to graduate and then go look for an entry-level job at this point in my career. I was ready to open my own business and I knew it had to be something I could be passionate about that would resonate with me. I've always loved seniors and I knew I wanted to work with that demographic, but I didn't want to work in healthcare. When I learned about Caring Transitions, buying a franchise was an easy decision," Tillman said.
Caring Transitions of Southeast Jersey is part of the national Caring Transitions franchise. Caring Transitions of Southeast Jersey is bonded and insured. All employees are CRT trained and background checked. For additional information, call 856-516-2218, email STillman@CaringTransitions.com or visit http://www.CaringTransitionsSoutheastJersey.com.
About Caring Transitions
Caring Transitions, founded in 2006, is the most trusted and experienced national franchise specializing in senior relocation and transition services. With more than 200 locations throughout the United States all owned and operated by Certified Relocation and Transition Specialists, Caring Transitions provides clients with supportive moves, auctions, rightsizing and transitions. This includes expert advice plus a well-executed transition plan beginning with the initial sorting of personal belongings through packing, unpacking, resettling, selling of items to the final clearing and cleaning of the property. For more information, visit http://www.caringtransitions.com or visit us on Facebook.