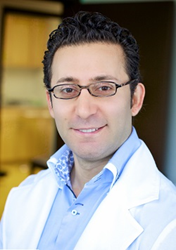 Tarzana, CA (PRWEB) February 10, 2016
Dr. Peyman Ghasri, skin doctor in San Fernando Valley, announces that his office is now offering a variety of comprehensive procedures for facial enhancement. The treatments now available at Castle Dermatology include cheek enhancement, chin enhancement, eyebrow lift, facial volume restoration, lip enhancement and nasal reshaping.
As a result, patients can improve virtually every aspect of their facial appearance with treatment at the dermatology clinic. The new procedures combine with the cosmetic and medical services also available at Castle Dermatology to create a premier source of dermatological care for area residents.
Cheek enhancement addresses the flattening of the cheeks that can occur with age. Fat injections, collagen injections, soft fillers and hyaluronic acid injections can be used to correct this flaw. Chin enhancement can be completed temporarily with fillers or permanently with implantation with silicone. When aging causes the eyebrows to fall, Dr. Ghasri can lift them with surgery for permanent improvements or reduce their wrinkling temporarily using Botox.
Facial volume loss can be restored with a variety of popular dermal fillers. To enhance the lips, augmentation can be performed for temporary or permanent improvements. Finally, nasal reshaping can improve the appearance of the nose and can be completed surgically or non-surgically.
Patients have access to a full range of dermatology treatments from Dr. Peyman Ghasri. For cosmetic improvements, patients can receive Botox, Dysport, Radiesse and Cool Sculpting along with several other treatments. CO2 laser resurfacing, fractional laser resurfacing, wrinkle reduction and more can be achieved with a host of options. Dr. Ghasri also offers medical treatment of skin cancer, acne, hair loss, keloid scars, psoriasis and more. Patients can also receive removal of birthmarks, spider veins, unwanted hair and age spots as well as other flaws.
Dr. Peyman Ghasri, a native of the San Fernando Valley, graduated magna cum laude from UCLA after receiving several merit scholarships and awards. Trained in general and plastic surgery after earning his MD, Dr. Ghasri went to UC Irvine for his residency in dermatology. Gifted with an eye for detail and a strong sense of aesthetics, Dr. Ghasri combines his artistry and his deep knowledge as a dermatological researcher to offer patients the best possible results.