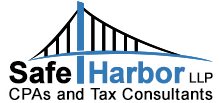 San Francisco is both an international city as well as a city with a strong focus on technology.
(PRWEB) May 22, 2014
Safe Harbor LLP, a San Francisco CPA Firm specializing in international tax services, is proud to announce its latest program to work with technology: a Google AdWords campaign focused on international tax and FBAR compliance issues.
"San Francisco is both an international city as well as a city with a strong focus on technology," explained Chun Wong, CPA, managing partner at Safe Harbor LLP. "Unlike many stodgy CPA firms, Safe Harbor LLP seeks to embrace technology including online advertising to reach international tax clients wherever they may be."
To learn more about Safe Harbor LLP, including their international tax services, please visit http://www.safeharborcpa.com/. To view their advertising, please visit http://www.google.com/ and enter keywords relevant to international tax, FBAR,PFIC, Foreign Trust, Controlled Foreign Corporation and other compliance issues while(should "while" – be here?) located in San Francisco, California.
Growing Demand in International Tax Compliance
With the growth in international trade and business, more and more American citizens and U.S. Persons\resident aliens living in the United States have foreign assets and foreign business interests. This is especially true in the San Francisco Bay Area, the home of Safe Harbor LLP, as the Bay Area is one of the most exposed area of the United States to overseas business and foreign immigration. With the rise of companies like Twitter, Facebook, LinkedIn, and even Yelp, more and more San Francisco residents have complicated tax issues, including foreign tax compliance issues. Many of the international tax filings are informational returns where generally no taxes are imposed, however non filing causes extremely harsh penalties. It is not surprising, therefore, that the firm has experienced strong interest in its international tax compliance services. And it is not surprising that the firm is embracing the use of technology to reach its client base, wherever that client base may be at any given time.
IRS Circular 230 Notice
The Internal Revenue Service requires Safe Harbor LLP to inform the reader that any tax advice contained in this correspondence cannot be used for the purpose of avoiding penalties under the Internal Revenue Code or for promoting, marketing or recommending to another party any transaction or matter addressed.
About Safe Harbor LLP – a Professional CPA Firm in San Francisco
Safe Harbor LLP is a CPA firm that specializes in accounting and tax services for individuals and businesses throughout the San Francisco Bay Area and greater California. Safe Harbor CPAs helps both individuals and businesses with tax preparation, IRS audit defense, and audited financial statements. The firm prides itself on friendly yet professional service and utilizes state-of-the-art Internet technology to provide quality customer service.
Safe Harbor CPA
http://www.safeharborcpa.com
Tel. 415.742.4249