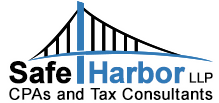 We are a local San Francisco CPA firm in a city that is international and cosmopolitan.
San Francisco, CA (PRWEB) February 26, 2014
Safe Harbor LLP (http://www.safeharborcpa.com/), a top San Francisco CPA firm and tax service, is proud to announce inclusion in many prestigious Internet directories of local businesses. The listings are part of the firm's strategy to synergize both local San Francisco tax and accounting services with the larger international tax environment.
"We are a local San Francisco CPA firm but in a city that is international and cosmopolitan," commented Chun Wong, CPA, managing partner at Safe Harbor LLP. "Our goal of our local listings efforts is to reach out to San Francisco Bay Area residents, many of whom also have international tax needs."
For more information, please visit http://www.safeharborcpa.com/golocal/ where one will find links to many relevant listings of Safe Harbor LLP, as a top San Francisco tax service and CPA firm.
The Importance of Local Listings
Many people in an international, cosmopolitan city such as San Francisco begin their search for a top-rated CPA firm on the Internet. They may begin at a search engine like Google or Bing, or they may drill down to a listing services such as Yext or CitySearch. Being part of the San Francisco technology community, Safe Harbor LLP is constantly working on improving its Internet presence and reaching out to San Francisco Bay Area residents however they may be searching for tax and accounting assistance. Safe Harbor LLP's commitment is not only to be a friendly, local CPA firm but to be an Internet-savvy firm as well. The local listings project is just one facet of how Safe Harbor LLP works at the juncture between one of the greatest cities on the American West Coast and the external international world, made ever smaller by the Internet.
IRS Circular 230 Notice
The Internal Revenue Service requires Safe Harbor LLP to inform the reader that any tax advice contained in this correspondence cannot be used for the purpose of avoiding penalties under the Internal Revenue Code or for promoting, marketing or recommending to another party any transaction or matter addressed.
About Safe Harbor LLP – a Professional CPA Firm in San Francisco
Safe Harbor LLP is a CPA firm that specializes in accounting and tax services for individuals and businesses throughout the San Francisco Bay Area and greater California. Safe Harbor CPAs helps both individuals and businesses with tax preparation, IRS audit defense, and audited financial statements. The firm prides itself on friendly yet professional service and utilizes state-of-the-art Internet technology to provide quality customer service.
Safe Harbor CPA
http://www.safeharborcpa.com
Tel. 415.742.4249