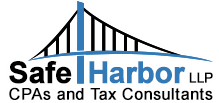 Our firm is growing and we are also very committed to accounting and finance as career opportunities for young people.
San Francisco, CA (PRWEB) June 25, 2014
Safe Harbor LLP, one of the San Francisco Bay Area's top CPA firms, is proud to announce an accounting and finance internship opportunity for qualified young people. The candidate will work primarily in preparing tax returns, including supporting work papers for various entities (individual, partnership, corporations, and trust etc.) and for assisting attest engagements under CPAs' supervision. He or she will also research tax, audit, and accounting matters, and carry out other projects as assigned. Internship location is in San Francisco, CA.
"Our firm is growing and we are also very committed to accounting and finance as career opportunities for young people," explained Chun Wong, CPA, managing partner at Safe Harbor LLP. "Our internship opportunity will combine hard work in accounting with a fun office environment and the opportunity to learn by doing, by working at one of San Francisco's most innovative boutique CPA firms."
For information on the internship opportunity in accounting and finance, please visit http://www.safeharborcpa.com/accounting-finance-internship-opportunity-san-francisco-ca/. There, in addition to information, one can find a link to send the initial application inquiry.
Qualifications for Accounting / Finance Internship
The applicant must be able to work legally in the US, and also have the following qualifications:
Bachelor's degree with a major in Accounting, Business Administration, Finance, General Business or
Management from an accredited college/university required
Strong written and verbal communication and interpersonal skills
Able to pay attention to detail
Able to work effectively both as part of a team and independently
Highly motivated and interested in taking the initiative for personal growth and development
Able to handle multiple priorities, tasks and simultaneous projects
Ability to work overtime as needed
Ability to enjoy working in a small environment
Proficient with Microsoft Office (Word, Excel, PowerPoint, Outlook)
IRS Circular 230 Notice
The Internal Revenue Service requires Safe Harbor LLP to inform the reader that any tax advice contained in this correspondence cannot be used for the purpose of avoiding penalties under the Internal Revenue Code or for promoting, marketing or recommending to another party any transaction or matter addressed.
About Safe Harbor LLP – a San Francisco CPA Firm
Safe Harbor LLP is a CPA firm that specializes in accounting and tax services for individuals and businesses throughout the San Francisco Bay Area and greater California. Safe Harbor CPAs helps both individuals and businesses with tax preparation, IRS audit defense, and audited financial statements. The firm prides itself on friendly yet professional service and utilizes state-of-the-art Internet technology to provide quality customer service.