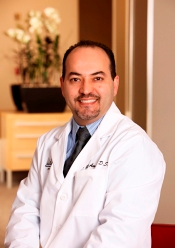 San Francisco, CA (PRWEB) February 03, 2015
San Francisco dentist, Dr. Ben Amini, and Associate dentists at CitiDent are now announcing a special price on teeth whitening at CitiDent. During the month of February, patients can visit CitiDent to have their teeth professionally whitened for HALF the regular office fee for laser whitening. White teeth are a classic sign of good health and can make a smile more attractive to others. With the February discount on this treatment, patients can quickly enhance their appearance and potentially increase their enjoyment of this romantic day.
Modern consumers can purchase over-the-counter teeth whitening kits, but these products offer less effectiveness compared to professional whitening options. When patients visit San Francisco smile makeover expert, Dr. Ben Amini, and Associate dentists at CitiDent, they benefit from the products and techniques used as well as the experience of the dentists involved. Higher-potency bleaching compounds ensure faster, more impressive whitening compared to what is possible with the weaker formulas in store-bought whitening kits. Multiple teeth whitening options are available at CitiDent, including laser teeth whitening, an ultra-fast method that can be ideal for busy professionals. By scheduling whitening appointments early, patients can ensure that their teeth will be in top form in time for Valentine's Day.
Teeth can become stained by several lifestyle factors, including smoking, tobacco chewing, and consumption of coffee, tea, wine, and berries. Stains that result from these factors affect only the superficial layers of teeth, making them responsive to reduction or elimination through teeth whitening. However, when stains are caused by antibiotics or tooth decay, San Francisco dental veneers expert, Dr. Ben Amini, and Associate dentists at CitiDent may recommend a treatment that conceals the teeth instead. Concealment options include porcelain veneers, Lumineers, and dental crowns. If you have cosmetic bondings or fillings in your front teeth, Dr. Amini and associate dentists at CitiDent will discuss your options prior to whitening as these teeth need special consideration before treatment.
About Dr. Ben Amini, Expert in Teeth Whitening San Francisco
Dr. Ben Amini graduated from San Diego State University and earned his Doctorate of Dental Surgery from the University of California, San Francisco (UCSF). A member of several local, statewide, national and international organizations in his field, Dr. Ben Amini is experienced in cutting-edge restorative and cosmetic procedures thanks to rigorous participation in continuing education courses. At CitiDent, patients can visit Dr. Ben Amini and Associate dentists for personalized treatment that is compassionate as well as efficient.