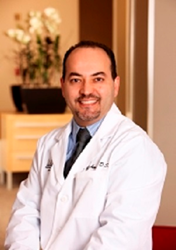 San Francisco, CA (PRWEB) July 22, 2016
San Francisco dentist, Dr. Ben Amini, is welcoming patients to CitiDent as office renovations have been completed. Patients visiting CitiDent have access to an array of modern dental technologies, treatments, and conveniences. With the latest technology in instruments and equipment, CitiDent dentists can give patients a more efficient and impressive results in specialties such as cosmetic dentistry, periodontics, endodontics, orthodontics, Invisalign and dental implants, as well as general dentistry. A new digital system and the availability of several dental specialties under one roof at CitiDent helps streamline diagnosis and treatment for busy professionals.
CAD/CAM dentistry is one of the options available at CitiDent. With CAD/CAM CEREC restorations, including crowns, tooth implants, and veneers, patients can get results in one visit that would otherwise take multiple appointments over several days or weeks. Also available is laser whitening, which uses lasers to precisely activate the bleaching process for fast, comfortable results. Laser gum lifts, another new option, harness laser energy to reshape the gums with absolute accuracy while cauterizing the tissue in the process, speeding recovery dramatically. Cavity detection is also now being done with lasers, which allow detection of tooth decay that is not visible to the eye or with X-rays. Finally, patients can receive laser cold sore treatment to help destroy the virus and stimulate the healing process.
CitiDent offers a complete range of dental treatments, which requires the work of specialists in several fields of dentistry. Without leaving CitiDent, patients can receive a consultation or treatment if needed from an orthodontist, endodontist, and periodontist. The new all-digital system at CitiDent integrates patient records with diagnosis and treatment plans on office computers for a comprehensive and efficient approach to dental care.
San Francisco dentist Dr. Ben Amini founded CitiDent after earning his undergraduate degree at San Diego State University and his Doctorate of Dental Surgery at University of California, San Francisco, UCSF School of Dentistry, in 1996. A reputable member of several professional organizations and an assistant clinical professor at UCSF, Dr. Amini is able to offer the latest technologies and techniques thanks to his continual completion of postgraduate dental training. At CitiDent, Dr. Amini offers restorative dentistry, preventive care, smile makeovers, dental implants, Invisalign and much more.