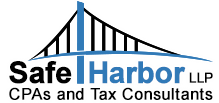 Estate planning is one of our more popular services.
San Francisco, CA (PRWEB) June 27, 2014
Safe Harbor LLP, one of the San Francisco Bay Area's top CPA firms, is proud to announce an informative new 'Estate Planning Service Guide' focused on the needs of high income individuals and business owners. Based in San Francisco, the firm focuses on tax and accounting services for Bay Area residents including estate planning.
"Estate planning is one of our more popular services," explained Chun Wong, CPA, managing partner at Safe Harbor LLP. "Many San Francisco Bay Area residents and businesses have substantial assets and seek estate planning services to help them craft transition plans for their heirs that minimize taxes and maximize the transfer of financial assets across generations. Our new 'Estate Planning Service Guide' is an important helpful tool for these individuals."
For information on the firm's estate planning services, and to download a no cost version of the guide, please visit http://www.safeharborcpa.com/estate-planning-san-francisco/. There one can read about estate planning, including taxes, charitable giving, life insurance and other issues.
Safe Harbor LLP's Growing Commitment to Estate Planning Services
As part of the firm's growing estate planning service for San Francisco Bay Area residents, the firm has begun a more active outreach strategy. First, the firm has begun to produce more informative blog content posts about the needs and interests of individuals and businesses with substantial assets and the need to transition those assets to the next generation. Second, as indicated in this press release, the firm has co-produced an informative no obligation guide to estate planning. Third, the firm offers phone consultation services to interested parties to determine if Safe Harbor LLP is a good match for their accounting, financial, and tax planning needs.
IRS Circular 230 Notice
The Internal Revenue Service requires Safe Harbor LLP to inform the reader that any tax advice contained in this correspondence cannot be used for the purpose of avoiding penalties under the Internal Revenue Code or for promoting, marketing or recommending to another party any transaction or matter addressed.
About Safe Harbor LLP – a San Francisco CPA Firm
Safe Harbor LLP is a CPA firm that specializes in accounting and tax services for individuals and businesses throughout the San Francisco Bay Area and greater California. Safe Harbor CPAs helps both individuals and businesses with tax preparation, IRS audit defense, and audited financial statements. The firm prides itself on friendly yet professional service and utilizes state-of-the-art Internet technology to provide quality customer service.