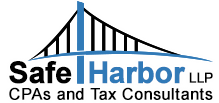 San Francisco is a city with a strong focus on technology and startups.
(PRWEB) May 26, 2014
Safe Harbor LLP, a San Francisco CPA Firm specializing in tax and accounting services for startups, is proud to announce its informative post on the tax consequences of stock options.
"San Francisco is a city with a strong focus on technology and startups," explained Chun Wong, CPA, managing partner at Safe Harbor LLP. "Many startups use incentive stock options as employee compensation, and many employees need to be strategic about how, when, and where to convert their stock options to cash." The exercise of incentive stock options is not taxable for regular tax purposes but is taxable for alternative minimum tax purposes.
To read the informative post on startups and stock options, please visit - http://www.safeharborcpa.com/?p=3361. In addition, the firm encourages interested parties to call or email for a consultation as the stock option situation of any startup or the employees of a startup can be quite different.
San Francisco: a City of Startups
San Francisco has recently hit its zenith as the center of startup activity in the Bay Area. Whereas in 2000, many startups were focused on the Silicon Valley area, namely San Jose, Santa Clara, and Mountain View, today many startups prefer the vigor of the Bay Area's most international and elegant city: San Francisco. With the successful IPO of San Francisco-based Twitter and Yelp, more and more inquiries have flooded into Safe Harbor about the pro's and con's of stock option exercise. In addition, many businesspeople are starting their own companies and as they do so, they need guidance on how to set up employee compensation including stock option issues.
IRS Circular 230 Notice
The Internal Revenue Service requires Safe Harbor LLP to inform the reader that any tax advice contained in this correspondence cannot be used for the purpose of avoiding penalties under the Internal Revenue Code or for promoting, marketing or recommending to another party any transaction or matter addressed.
About Safe Harbor LLP – a Professional CPA Firm in San Francisco
Safe Harbor LLP is a CPA firm that specializes in accounting and tax services for individuals and businesses throughout the San Francisco Bay Area and greater California. Safe Harbor CPAs helps both individuals and businesses with tax preparation, IRS audit defense, and audited financial statements. The firm prides itself on friendly yet professional service and utilizes state-of-the-art Internet technology to provide quality customer service.
Safe Harbor CPA
http://www.safeharborcpa.com
Tel. 415.742.4249