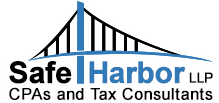 March is a busy time in the tax and accounting business.
San Francisco, CA (PRWEB) February 27, 2014
Safe Harbor LLP (http://www.safeharborcpa.com/), a top San Francisco CPA tax and accounting firm, is proud to announce their March, 2014, tax bulletin. The CPA firm releases a monthly bulletin for clients and non-clients to help educate businesses and individuals on timely tax issues, especially for San Francisco Bay Area businesses.
"March is a busy time in the tax and accounting business," commented Chun Wong, CPA, managing partner at Safe Harbor LLP. "However, our monthly bulletin is future-focused, with information on issues such as maximizing the effect of charitable contributions and minimizing the tax implications of various classes of mutual fund shares."
For more information, please visit http://www.safeharborcpa.com/?p=3254 where one will find links to the March tax bulletin as well as a summary of articles contained.
Highlights of the March, 2014, San Francisco Tax Bulletin
Many people wish to contribute to nonprofits and charities, yet maximize the impact of their contributions and minimize their taxes. Appreciated assets offer an interesting angle on this challenge. Another issue is the different ways that different classes of Mutual Fund shares impact taxes, such as A, B, and C, share classes. Finally, small business owners need to be advised of tax filings and payments on the tax calendar.
IRS Circular 230 Notice
The Internal Revenue Service requires Safe Harbor LLP to inform the reader that any tax advice contained in this correspondence cannot be used for the purpose of avoiding penalties under the Internal Revenue Code or for promoting, marketing or recommending to another party any transaction or matter addressed.
About Safe Harbor LLP – a Professional CPA Firm in San Francisco
Safe Harbor LLP is a CPA firm that specializes in accounting and tax services for individuals and businesses throughout the San Francisco Bay Area and greater California. Safe Harbor CPAs helps both individuals and businesses with tax preparation, IRS audit defense, and audited financial statements. The firm prides itself on friendly yet professional service and utilizes state-of-the-art Internet technology to provide quality customer service.
Safe Harbor CPA
http://www.safeharborcpa.com
Tel. 415.742.4249