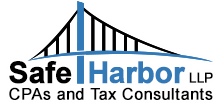 July is a big month for vacation and travel.
San Francisco, CA (PRWEB) July 01, 2014
Safe Harbor LLP (http://www.safeharborcpa.com/), a top San Francisco CPA firm, has published their informative July tax tips newsletter for San Francisco individuals and businesses.
"July is a big month for vacation and travel," explained Chun Wong, CPA, managing partner at Safe Harbor LLP. "Accordingly, our bulletin focuses on rental car issues, eating out and possible ways one can rent out a San Francisco home 'tax free.'"
To read the 'July Tax Tips Newsletter,' please visit http://www.safeharborcpa.com/?p=3443.
July, 2014 Tax Tips for San Francisco
Among the items discussed in this month's lively San Francisco tax tips bulletin are the following. First, during the summer months many businesses and individuals rent cars for vacation. Some credit cards cover certain possible losses, while others do not. The bulletin explores this important issue for car rentals, not only in the San Francisco Bay Area but elsewhere. Secondly, many businessmen and businesswomen take clients out for lunch or dinner, knowing that 50% of those expenses are tax deductible. However, that is not always the case. And third, in some situations, one can rent out a home 'tax free' yet make extra income. In high profile, tourist destinations like San Francisco, this can be a real opportunity.
IRS Circular 230 Notice
The Internal Revenue Service requires Safe Harbor LLP to inform the reader that any tax advice contained in this correspondence cannot be used for the purpose of avoiding penalties under the Internal Revenue Code or for promoting, marketing or recommending to another party any transaction or matter addressed.
About Safe Harbor LLP – a Professional CPA Firm in San Francisco
Safe Harbor LLP is a CPA firm that specializes in accounting and tax services for individuals and businesses throughout the San Francisco Bay Area and greater California. Safe Harbor CPAs helps both individuals and businesses with tax preparation, IRS audit defense, and audited financial statements. The firm prides itself on friendly yet professional service and utilizes state-of-the-art Internet technology to provide quality customer service.