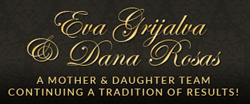 Whether you're buying or selling a home in the San Gabriel Valley, the Foothill communities, or North Orange County, we're here to help
Orange County, CA (PRWEB) March 18, 2014
Those interested in San Gabriel Valley Real Estate and properties in other nearby areas such as The Inland Empire, Chino Valley, and The Foothill Communities can now access a new resource, http://www.EvaSellsProperties.com. Launched by prominent Realtors & Brokers Eva Grijalva and Dana Rosas, the new website features extensive up-to-date property listings, as well as, community information and a variety of Real Estate guides and tools.
"Our goal has always been to provide the very best service," says Rosas, who has been specializing in The San Gabriel Valley, San Diego County and Orange County Real Estate for over a decade. "This is why we've launched a more comprehensive and updated website. Here you can not only access Real Estate listings, you can also make use of financial tools, learn more about the different communities in the region to live in, and so on."
EvaSellsProperties.com showcases Grijalva and Rosas' own featured properties and also has MLS and map search tools for those who want to browse for anything from Chino Valley properties to homes for sale in Orange County & San Diego County. There's also a schedule of open houses in the area, home-buying and selling guides, tools such as a mortgage calculator, information on financing options, and a concierge section with details on local resources, school data, among other things.
"Whether you're buying or selling a home in the San Gabriel Valley, the Foothill communities, or North Orange County, we're here to help," says Grijalva. "Our site is only an introduction to the various areas we serve and to the many ways we can help you. Together, Dana and I have over 40 years of experience in the Real Estate Industry & have extensive knowledge about the local markets. Our focus has always been about client satisfaction."
For Eva Grijalva & Dana Rosas' Luxury Property owners; both have been recognized by the prestigious Institute for Luxury Home Marketing for their consistent performance in listing & selling multi-million-dollar properties within the San Gabriel Valley, the Inland Empire, Foothill Communities & Beyond. Real Estate professionals who have earned admittance to The Institute's Million Dollar Guild® not only have specific upper-tier market knowledge, but they also understand the unique needs of affluent buyers and sellers and recognize the importance of employing stellar marketing & negotiating skills. Members of the Million Dollar Guild are Certified Luxury Home Marketing Specialists® (CLHMS) who have documented their success in assisting affluent buyers and sellers with million-dollar properties. The recognition is awarded by the Institute for Luxury Home Marketing which trains Real Estate agents in the luxury home market and awards international designations to those who meet stringent performance standards.
Start searching for current available properties in the San Gabriel Valley, Orange County and the Inland Empire at http://www.EvaSellsProperties.com. For more in-depth information and to learn more about Grijalva and Rosas' services; get in touch with them directly by phone or email, you'll be glad you did. They are patient, hard-working, Professional, Experienced & Honest; all of which are traits you need in your next Realtor. Whether you're buying, selling, or investing, they can provide you with all the answers you need to know you're getting the representation you deserve. Call them today.