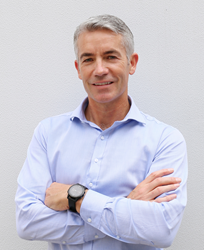 SUZHOU, China (PRWEB) July 31, 2019
SANGHA Retreat by OCTAVE Institute, a master-planned destination retreat for mindful living, announced the appointment of Mr. Jamie Waring as Managing Director, Wellness. In this newly appointed position, effective immediately, Waring will oversee AT ONE Clinic, AT ONE Healing Spa, and the Family Learning Center. He will be based in Suzhou.
Waring brings more than 30 years of experience leading cross-cultural teams and working in business development, brand creation, sales and marketing, operations, and financial and strategic planning of multi-unit businesses within the hospitality and wellness industries.
"Jamie's global experience and proven track record in wellness and hospitality is a strategic addition to our senior management team as we further enhance OCTAVE Institute's programming and anticipated expansion," said Sook-Yee Tai, Chief Operating Officer, OCTAVE Institute.
Waring spent five years with Six Senses Hotels, Resorts & Spas in Bangkok as Managing Director and Chief Operating Officer. His COO responsibilities included overseeing the global operations and corporate functions of the brand's 44 resorts and spas.
Prior to joining OCTAVE Institute, Waring was Chief Operating Officer of APEX Management in Jeddah, Saudi Arabia, where he developed, consulted and managed wellness, hospitality, and real estate development projects in the Middle East. He began his career in wellness at Holmes Place Group in Europe, leaving as CEO. His business career started in London's financial district where he was a money broker trading currencies on the international markets.
Waring reports to Ms. Sook-Yee Tai, Chief Operating Officer, OCTAVE Institute.
SANGHA Retreat by OCTAVE Institute
Located west of Shanghai on the outskirts of Suzhou, China, SANGHA Retreat combines Eastern philosophies backed by Western science to help people awaken to a life of greater purpose and personal wellbeing. With a focus on raising consciousness, it has been created for the need of our time by visionary Fred Tsao, fourth-generation steward of a family business that started in The Shanghai Bund before 1906.
The 47-acre retreat, designed by Tsao & McKown, includes AT ONE guest suites; AT ONE Clinic, offering comprehensive wellness assessments and wellbeing programs; AT ONE Healing Spa with extensive spa treatment menu and hydrotherapy circuit; THOUGHT FOR FOOD restaurant; the Meditation Dome; and a seasonal schedule of fitness activities and mindfulness classes designed around the body's circadian rhythm.
For more information and reservations, visit sangharetreat.com. Reservations can also be made through Hidden Doorways Travel or a preferred travel agent.
OCTAVE Institute
More than a school of life, OCTAVE Institute is a platform to help people find clarity, harmony and a new level of consciousness and freedom. It is comprised of SANGHA Retreat, the VILLAGE, and AITIA in Suzhou; and THE LIVING ROOM, an urban support center in Shanghai. The VILLAGE is a live-work-learn community for personal and communal learning, executive retreats, conferences, summits and festivals including the AT ONE International Festival, an annual, international festival that brings together thought leaders and holistic practitioners to address current issues. AITIA powers the communal programs at OCTAVE Institute. Together they create the foundation for growth towards a purposeful life, mindfully lived. http://www.octaveinstitute.com/