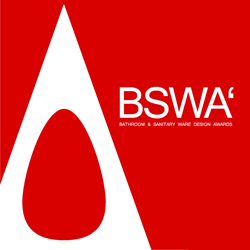 Bathroom products and sanitary ware that demonstrate excellent design qualities will be awarded.
Como, Italy (PRWEB) February 03, 2014
A' International Bathroom and Sanitary Ware Design Awards (BSWA) are now open for entries. Worldwide bathroom product manufacturers, bathroom furnishings producers, and sanitary ware designers are invited to take part in the accolades by entering their best products. The A' Design Awards promises, international recognition, publicity, press coverage, exhibition and credibility to the prospective winners.
Entries to the International Bathroom Furniture and Sanitary Ware Design Competition are judged by an independent expert 50-person design award jury panel composed of prominent design professionals, media members, academics and entrepreneurs from the fields of arts, architecture and design. Entries are voted anonymously and the jury decision will be final.
A' International Bathroom and Sanitary Ware Design Award recipients earn the right to use the "A' Design Award Winner" symbol which offers a clear indication of exceptional design and quality standards. Consumers understand that products carrying the A' Design Awards symbol have been judged against the highest design standards and therefore the A' Design Award logo, when placed on products or product packaging, could make consumers to be inclined towards a purchase decision.
Laureates will be invited to the exclusive award ceremony in Italy. The Annual A' Design Award Competition Gala-Night is one of world's most prestigious and inclusive design honors; bringing together product manufacturers, developers, architects, designers, and other professionals from seventy countries, to celebrate excellent designs of bathroom furnishings and sanitary ware products.
In addition to logo licensing and invitation to the gala, award winners will be provided a comprehensive winners' kit including a framed award certificate for design excellence, press release preparation & distribution, translation of awarded products to twenty languages, communications to thousands of publications, hardcover yearbook publication, as well as a traveling exhibition for winners. The winners' kit will be provided free of charge to all laureates.
Entries to the International Bathroom Furniture and Sanitary Ware Design Competition shall be made latest on February 28, 2014. Results will be announced on April 15, 2014. Entries to the competition can be made at http://www.adesignaward.com The competition is open especially for bathroom and sanitary ware products, however interior designs will also be considered.
About the International Bathroom and Sanitary Ware Design Awards
The A' International Bathroom and Sanitary Ware Design Awards promotes excellence in design and innovation of bathroom products, furnishings and sanitary ware products. The BSWA accolades creates a strong incentive for sanitary ware designers and bathroom furniture manufacturers worldwide to come up with superior products that are not only visually appealing but also socially responsible. The ultimate aim of the International Bathroom and Sanitary Ware Design Awards is to push designers and manufacturers from all countries to create better, healthier, durable, sustainable and ergonomic products that benefits the consumers. Learn more about the design accolades at http://www.whatisadesignaward.com