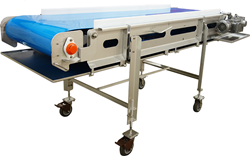 Beaver Dam, Wisconsin (PRWEB) January 28, 2015
Mepaco, the food processing equipment segment of Apache Stainless Equipment Corporation, has developed a new Sanitary Conveyor design using modular components. This new standard conveyor offering will provide Mepaco's processing customers with greater flexibility in line layouts, more efficient engineering turnaround and better price points compared to custom designed solutions.
Modular pre-engineered components were designed to simplify the sanitation process by allowing for easy access to all inner areas of the frame. Sanitation effectiveness and efficiency were top priorities when developing the design.
At the IPPE show, Mepaco representatives demonstrated the features to food processing and sanitation engineers for feedback. The standard features include:

10 ga. Side frames with clean-out holes
Shaft-mounted wash-down gear motor with/torque arm
Homogeneous belting
Removeable wearstrips
Belt scraper
Pickle passivated finish
Angle and channel floor supports
Integrated guide rails
The IPPE (International Production and Processing Expo), held in Atlanta, Georgia annually in January, is dedicated to the poultry and meat processing industry.
The Mepaco line of products include: grind/blend systems, cookers, mixer/blenders, lifts, dumpers and material handling systems.