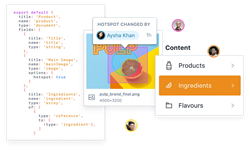 "Sanity has created the hero product for building innovative product experiences. We're excited to support the Sanity team as they enter this next phase of growth." -- Doug Pepper, general partner at ICONIQ Growth
SAN FRANCISCO (PRWEB) June 24, 2021
Sanity, the platform for structured content, has raised $39 million in Series B funding less than a year after its $9.3 million Series A raise in October 2020. Nearly 100,000 developers, marketers, content creators and product professionals use Sanity to manage and launch customer-facing digital initiatives, including brands like National Geographic, Puma, InVision, Datastax and Brex. In the past year, the company tripled its customer base, doubled revenue, and more than doubled its team.
The round, led by ICONIQ Growth with venture capital firms Lead Edge Capital, Threshold Ventures, Heavybit, and Alliance Venture, brings the company's total funding to $51.8 million since its founding in 2018. ICONIQ Growth General Partner Doug Pepper has joined the board.
"In an era of digital globalization, companies must rapidly deliver complex, multi-channel, and engaging digital experiences to reach customers wherever they are. This is forcing them to rethink the CMS. At the same time, developers are increasingly leading the adoption of new technologies and holding the keys to adapt effectively to this shift," said Doug Pepper, general partner at ICONIQ Growth. "Sanity has created the hero product for building innovative product experiences, with an impressive developer-oriented approach to content delivery and a personalized product experience that breaks down silos for content creators, marketing and developer teams. We're excited to support the Sanity team as they enter this next phase of growth."
A fast-growing alternative to the traditional CMS, Sanity succeeds by uniquely treating content as data. By storing resources in the Sanity Content Lake organizations unify their content, making it available both for collaboration and for global distribution. The benefits of having a single source of truth are many, but a typical outcome is velocity as businesses use actual product data to drive digital efforts. Teams are unblocked and free to work on content, design and code in parallel to ship better products faster. Editors work efficiently in customized editing environments built on top of Sanity Studio, an open-source authoring layer that developers are free to customize.
"Sanity has played a key role in helping us scale our content engine. It's changed the way we think about structuring content, giving us more flexibility to experiment with new ways of driving the customer experience," said Isaac Martin, senior software engineer at Brex. "Our team loves being more self reliant, with the creative freedom to get work done without a constant back-and-forth with engineering."
"Sanity has been a great partner in helping our team scale and launch digital initiatives faster. We've gotten high praise internally for how Sanity has empowered our content teams to get more done without leaning on engineering," said Jon Wheeler, senior product marketing engineer at InVision. "We're always working to push the bounds of what we can do with dynamic and personalized content, and Sanity has enabled us to accelerate those projects."
"Sanity has made it possible for us to build virtually anything we dream up. It's really increased the level of innovation and creativity we can bring to web projects," said Eric Johnson, principal web developer at Cornerstone OnDemand. "We've been able to offload a lot of work from the developer team by building powerful and flexible page builder tools."
Sanity's vision to provide structured content comes as businesses look to redefine their digital customer interactions, breaking silos to move faster and deliver better digital experiences to extend their core products. According to Deloitte, 75 percent of customers expect consistent experiences across departments. Yet, 58 percent feel like they're interacting with a number of different divisions instead of a single company.
"Creating incredible digital product experiences for customers has never been more important, and that means we need a better framework for content that scales across marketing, product, and engineering," said Magnus Hillestad, CEO and co-founder of Sanity. "Content can no longer be confined to a publish model. Sanity breaks those restrictions so anyone can build a rich experience for customer interaction that keeps pace with technology advancements."
About Sanity
Sanity is the platform for structured content that lets teams build exceptional digital experiences. By treating content as data, modern organizations use our APIs to build optimal editing workflows and share content between systems to increase digital velocity. Our mission is to be the most versatile system for creating and distributing digital content to any device, application or channel. Dual-headquartered in San Francisco and Oslo, Norway, Sanity is used by thousands of companies including Unilever, Puma, National Geographic, and Condé Nast. Sanity is backed by ICONIQ Growth, Threshold Ventures, Lead Edge Capital, Heavybit, Alliance Venture, Monochrome Capital, and prominent angel investors like Twitter and Medium co-founder Ev Williams, Netlify co-founder Matthias Biilmann, ex-CEO of Heroku Adam Gross and Vercel founder Guillermo Rauch. Learn more at http://www.sanity.io.
About ICONIQ Growth
ICONIQ Growth partners with exceptional entrepreneurs and leaders who drive global impact and change. We are inspired by visionaries defining the future of their industries by building company cultures that endure. Our unique investment platform harnesses the power of ICONIQ Growth's vibrant ecosystem of founders, pioneers, and business leaders with the goal of delivering tangible value and amplifying our portfolio companies' success from early growth stage to IPO and beyond. ICONIQ Growth's portfolio of innovators include Adyen, AirBnB, Alibaba, Alteryx, Automattic, BambooHR, Braze, Chime, Collibra, Coupa, Datadog, DocuSign, GitLab, Marqeta, Miro, Procore, Red Ventures, Relativity, ServiceTitan, Snowflake, Sprinklr, Truckstop, Uber, Wolt, and Zoom, among others. For more information and a complete list of portfolio companies, please visit ICONIQGrowth.com.